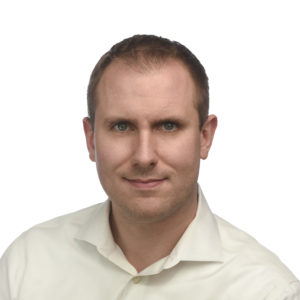 Erik Hefti, PharmD, MS, Ph.D.
Executive Director of Pharmaceutical Sciences & Assistant Professor of Pharmaceutical Sciences
Erik Hefti is a clinical pharmaceutical scientist originally from Upstate New York. Dr. Hefti is the executive director of the Pharmaceutical Sciences graduate program at Harrisburg University. He is a licensed pharmacist in both New York and Pennsylvania that has extensive clinical practice experience in inpatient and telehealth spaces. He has also taught at the Foundation for Advanced Education in the Sciences (FAES) within the National Institutes of Health on behalf of Harrisburg University.
Research: His research focuses on pediatric pharmacogenomic factors impacting cardiovascular toxicity following cancer chemotherapy and genetic testing utilization to improve healthcare outcomes. His clinical focus involves optimizing pharmacotherapy in patients with genetic disorders and investigating telehealth outcomes in outpatient populations. Recent peer reviewed publications have focused on telehealth outcomes in Pennsylvania during the COVID-19 pandemic and the pharmacotherapeutic impact green tea supplementation may have.
Courses developed and/or taught at HU:
BTEC 635- Clinical Pharmacology
BTEC 625- Pharmacogenomics
PHAR 520 – Pharmacokinetics and Pharmacodynamics
PHAR 525- Drug Transport
PHAR 690 – Ethics and Trends in Pharmaceutical Sciences
BTEC 508 – Omics in Life Sciences
NURS 550 – Advanced Pathophysiology/Pharmacology and Health Assessment
BTEC 560 – Design of Experiment
GRAD 699 – Graduate Thesis
Education
BA (summa cum laude) – Biology 2009, St. John Fisher College, Rochester, NY, United States
PharmD – Doctor of Pharmacy Practice 2014, University at Buffalo, Buffalo, NY United States
Masters of Science – Pharmaceutical Science 2014, University at Buffalo, Buffalo, NY United States
PhD – Pharmaceutical Science 2017, University at Buffalo, Buffalo, NY United States