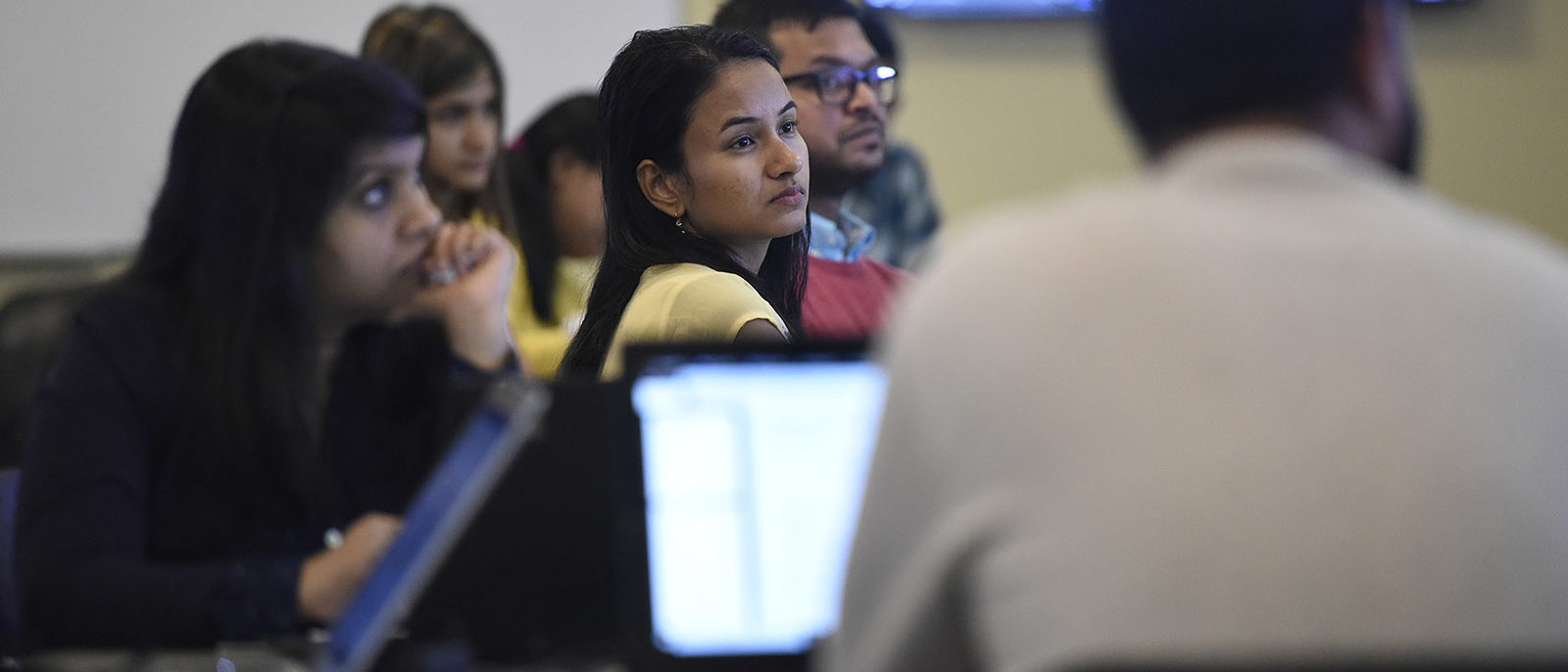 Executive Format Weekends
Engage in graduate studies with weekend sessions at Harrisburg University. Our faculty and staff will ensure you have a smooth arrival. International graduate students take weekly classes online and come to campus one Saturday per month for the duration of their studies at HU.
The executive Hybrid program was developed for career-minded individuals. It is a blend of online learning with more traditional face-to-face teaching methods, including on-campus lectures, group projects, immersion trips, and workplace consulting projects. The structure will be a physically meeting on campus 3 times on a Saturday during the 14-week semester with set dates found in the academic calendar. The class hours are dependent on what you register for; either 8 am-12 pm or 1 p.m.-5 p.m. Students may register for one on-campus course and one online course. Missing a physically required meeting date on campus has serious consequences and puts an international student's legal status in jeopardy. International students are only required to be on campus 3 times a semester for the duration of their studies at HU.
On-Campus Dates
Saturday classes run from 8 a.m. to noon and 1 p.m. to 5 p.m.
Early Spring 2023
January 7-8, 2023
February 11-12, 2023
March 25-26, 2023
Late Spring 2023
March 11-12, 2023
April 22-23, 2023
May 20-21, 2023
Early Summer 2023 
May 6–7, 2023
June 10-11, 2023
July 29-30, 2023
Late Summer 2023
July 8–9, 2023
August 12–13, 2023
September 23–24, 2023
Early Fall 2023
August 26-27, 2023
October 7-8, 2023
November 11-12, 2023
Late Fall 2023
October 28-29, 2023
December 9-10, 2023
January 27-28, 2024
Early Spring 2024
January 6-7, 2024
February 10-11, 2024
March 23-24, 2024
Late Spring 2024
March 9-10, 2024
April 20-21, 2024
May 18-19, 2024
Orientation is Online
A link to the Online Orientation is sent to your HU email beginning the first day of Registration, provided you paid your tuition and fees.  If you are accepted to HU after Registration opens, the link is sent to your HU email after your tuition payment is processed.
Make a Deposit
The semester cost for the two-year six-semester International Student Graduate program is currently $5,300. If you are accepted into the program, you will receive an acceptance letter. In the days following your acceptance, your Student ID number will be sent to you via separate correspondence. You will need that Student ID number to make your deposit online. Choose the option that best describes you below to see more information about making a deposit.
In the U.S. or not changing status:
Make your non-refundable $1,000 USD tuition deposit online. The non-refundable deposit will be applied to your first-semester tuition and can be done online using a credit card.
Once you have completed your non-refundable deposit, you may pay any remaining tuition and fees online. Your tuition and fee balance must be paid at least one week before classes start and can also be done online using a credit card. The University does not offer an installment payment plan for international students.
A $200 USD deposit is required to request your I-20. Once your $200 USD deposit is received and your HU Login Credentials are issued, you can request an Initial SEVIS Form I-20 by following these instructions.
If Your Visa Application is Denied
You may submit a written request for a refund of your deposit within four months from the date of your payment. Please do NOT phone or email the university requesting the status of your I-20.
Receiving Your I-20
Information about I-20s, accommodations, registration, and other materials will arrive to you from the University's Compliance and SEVIS office via email at a future date. It typically takes three weeks to receive your I-20.
When you receive your I-20, a SEVIS ID is on the form (N and 10 digits). You will be required to pay a $350 USD I-901 fee to SEVIS using your SEVIS number.
Scheduling Your Visa Appointment
Once you've paid your I-901 fee, schedule your visa appointment. Be sure to take the receipt for your I-901 SEVIS fee payment along with your passport, HU Initial I-20, and Acceptance Letter.
Entering the United States
Once you have entered the United States, you must report your arrival to the International Student Office by completing the Arrival and Check-In Form.  You will be required to upload copies of your F-1 visa stamp, I-94, HU I-20 and passport bio page.
Complete Arrival and Check-In Form
Then make your non-refundable $1,000 USD tuition deposit online, finalize your travel itinerary to the U.S. and arrange your housing.
Arriving from a foreign country:
Residing in the United States:
Certain hotels in the region offer discounted rates for students enrolled at Harrisburg University. Students can book their own accommodations at one of these hotels. See our preferred hotels.
Get Support
Get personalized support and access to helpful resources by choosing an action below.
International Admissions
If you're interested in pursuing a graduate degree but have not yet been accepted to Harrisburg University, submit a free online application today. You can also request more information by emailing F1@HarrisburgU.edu.
Admissions Requirements
Harrisburg University welcomes students from more than 100 countries to its campus annually.
Apply Online
Complete a free online application to apply for acceptance to Harrisburg University as an F-1 Student.
Contact the

International Student Office

We can help you make the most of your stay at Harrisburg University. We're prepared to answer questions about, academics, immigration, housing, employment and community life.

We'll even help you get involved in community organizations and find ways to share your culture within our community.