Sexual Misconduct
Harrisburg University prohibits all forms of sexual misconduct, including but not limited to, sexual assault, stalking, dating or domestic violence, and sexual harassment. Such conduct violates the community values and principles of our institution and disrupts the living, learning, and working environment for students, faculty, staff and other community members. In furtherance of this policy, Harrisburg University has adopted the following standards of conduct for all members of our community – students, faculty, and staff, as well as University vendors, contractors, visitors, guests, and third parties – with respect to sexual misconduct. These standards apply equally to all regardless of the sex, gender, sexual orientation, gender identity, or gender expression of any of the individuals involved.
---
The policies of Harrisburg University of Science and Technology are contained within the university's catalogs, employee handbook, and student handbook. All other documents, unless approved by the President as a stand alone policy, are guidance or standard operation procedures. For the full text of the policies and procedures summarized below, please see the appropriate catalog and/or handbook with the complete and controlling language.
Safety & Security
Harrisburg University strives to offer a safe and secure campus. The Chief Financial Officer has the primary responsibility for security on campus and is the designated Chief Security Officer. Campus security can be enhanced by your help in following all security policies and by using common sense safety practices such as locking your car, walking in groups, reporting suspicious incidents and protecting your own property by not leaving it unattended. You may report emergencies or criminal activities by calling campus security on (717) 901-5180. For non-emergencies, you may email HUSecurity@HarrisburgU.edu
Armed police officers from the Harrisburg Police Department are authorized to maintain security of the campus during the day and at night. The Harrisburg Police Department can be reached at 911 for an emergency and (717) 780-6590 for non-emergencies. If you become aware of a crime, observe a suspicious person, or are a victim yourself, promptly report all emergencies to the police.
Anti-Hazing Policy & Reporting
Harrisburg University of Science and Technology does not tolerate hazing. Any student, student group, student organization, team, or other persons associated with a student organization found responsible of Hazing, Aggravated Hazing, or Organizational Hazing under our policy, whether occurring on or off campus, may face disciplinary action from HU, and may also face criminal charges under state law, including The Timothy J. Piazza Antihazing Law. HU publishes it's Act 80 of 2018 Timothy J. Piazza Anti-Hazing Report Biannually and is available on our Reports & Disclosures page.
Alcoholic Beverages
Harrisburg University cooperates in the enforcement of State laws regarding the possession, use and sale of alcoholic beverages. Alcohol is not permitted on campus by students or by underage persons in an arranged non-campus residence. A person found in violation of this policy is subject to arrest and disciplinary action by the University.
Illegal Drugs
Harrisburg University cooperates in the enforcement of all Federal, State and local laws concerning illegal drugs. Anyone in the possession of, using, or selling illegal drugs on-campus or in an arranged non-campus residence building will be subject to arrest and disciplinary action by the University.
Weapons
No one is permitted to carry a weapon on campus. Violators will be subject to arrest.
Campus Access
Harrisburg University students and employees have access 24/7 to the University Academic Center with a valid Campus OneCard Alumni and other visitors must check in at the Security Desk attendant and have an appointment in order to have access to the Academic Center.
Campus Maintenance
Harrisburg University maintains exterior lighting to keep the campus well lit. Maintenance personnel inspect the entire campus and building to discover and correct health, safety and maintenance problems. Security related maintenance problems such as locks, doors and windows in need of repair should be reported.
Emergency Response and Evacuation Policy and Procedures
In the event of a significant emergency, notification to the campus community will commence via a text and email alert to personal electronic devices upon confirmation of the emergency or dangerous situation involving an immediate threat to the health or safety of students, faculty or employees. The University will, without delay, and taking into account the safety of the community, determine the content of the notification and initiate the notification system unless the notification will, in the professional judgment of responsible authorities, compromise efforts to assist victims or to contain, respond to, or otherwise mitigate the emergency. Any emergency should be reported to the Security Office on 901-5180. Emergency information will be disseminated to the larger community by a website notice. The Director of Institutional Compliance is responsible for the Emergency Policy and Procedure process. The emergency policy and procedures will be tested on at least an annual basis.
Emergency Notifications & Timely Warning Information
Students, faculty and staff are strongly encouraged to sign up for emergency campus alerts via email and text message. Instructions for signing up for Omnilert can be found on our IT Support Portal at Emergency Alerts – Omnilert. Harrisburg University's Emergency Notification Service (ENS) is used to communicate with subscribers through voice, text, and email messages, as deemed appropriate in the event of an emergency or change in the University's operational status. Each subscriber can designate up to three contact numbers and specify text, email and/or voice messages. The Emergency Notification Service is designed for use with portable devices and is only one aspect of a layered approach to notifying the University community of emergencies.
In the event of a criminal or emergency on or near campus, Harrisburg University of Science and Technology may issue a timely warning for a potential threat to the campus community. In the event that a timely warning is issued, Harrisburg University will provide instructions to maintain campus security, which may include lockdown or the cancellation of all classes. For victims of an alleged sex offense, the Student Services Office will coordinate academic options with the student.
In the event that you encounter an emergency on campus, please contact Harrisburg University security or the nearest staff member.
Non-Discrimination
Harrisburg University of Science and Technology, in accordance with applicable federal and state laws and university policies, does not discriminate based on race, color, national origin, sex, age, disability, medical status, sexual orientation, gender identity, or status as a veteran. The university also prohibits sexual harassment. This nondiscrimination policy covers admission, access, operation of university programs and activities, and employment. This policy is in accordance with the following laws, as amended, and their implementing regulations, to the extent and in the circumstances that they are applicable to the university: Titles VI and VII of the Civil Rights Act of 1964; Title IX of the Educational Amendments of 1972; the Americans with Disabilities Act of 1990; and Section 504 of the Rehabilitation Act of 1973.
Additional information and hotline assistance is available at:
National Hotlines:
Drug Abuse Hotline – 800.662.4357
CDC AIDS Information – 800.342.2437
National Runaway Hotline – 800.621.4000
Missing & Exploited Children – 800.843.5678
Youth Crisis Hotline – 800.448.4663
Harrisburg Resources:
Ambulances 24 hours – 911
PA State Police – 717.671.7500
Suicide Crisis Hotline – 800.784.2433
Emotional and Substance Abuse – 800-LIFE-NET
Hamilton Health Center – 717.232.9971
Pinnacle Health Emergencies – 717.782.5256
Harrisburg Hospital – 717.782.5678
The Annual Campus Crime & Security Report (Clery Information)
The annual Campus Crime & Security Report filed with the U.S. Department of Education is available for public review on Harrisburg University's website.
Closings & Delay Information: Dial Before You Drive!
Students, faculty and staff should dial 717.901.5199 to access the University's operating schedule. Should Harrisburg University open late, close early, or cancel classes for the day due to inclement weather or other emergency, a message will be left on the University's voicemail at that number. Additionally, the University will post any changes to its operating schedule on the main page of the website.
The University does not follow the lead of any other organization with regard to weather cancellations and/or delays, and it will make every effort to remain open and available to students. If, the University remains open during or following a weather-related event or other emergency, it is up to each student and employee to make a reasonable decision about whether to travel. Safety and common sense should guide decisions. Students are expected to notify their faculty, and employees are expected to report to their supervisors. HU will not make personal calls to students or employees. The University will follow all City of Harrisburg and/or Commonwealth mandated emergency procedures in the event of a weather-related emergency, too.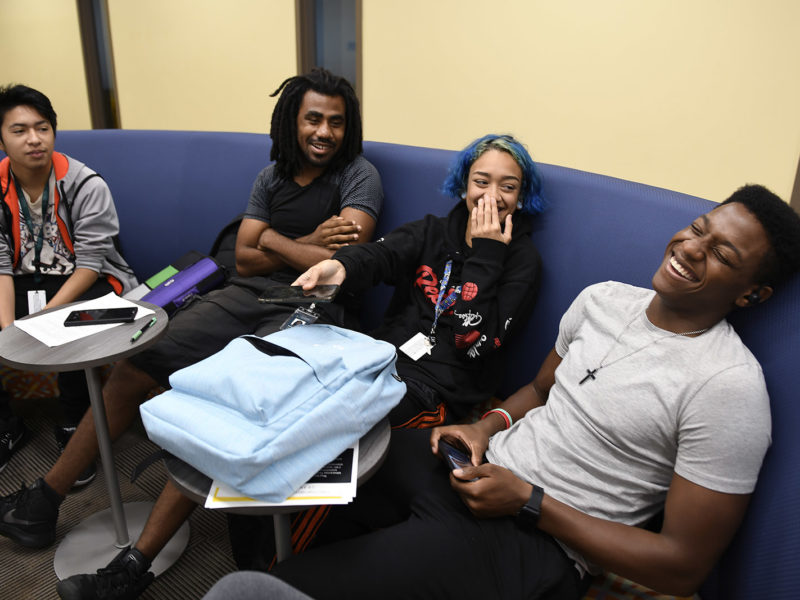 More to Explore
Reports and Disclosures
Each year, Harrisburg University publishes a variety of statutorily mandated reports and disclosures.
Accreditation
Harrisburg University of Science and Technology is accredited by the Middle States Commission on Higher Education.