October 18, 2021
Harrisburg University of Science and Technology will host the Philadelphia Consortium College Fair at the University's center city Philadelphia location from 5-7 p.m. on Nov. 17.
High school students, transfer students, families, and all others are invited to attend the free event and meet with representatives from Philadelphia area colleges and universities.
"Dealing with ongoing pandemic issues, including limited in-person access to students in the Philadelphia School District, we decided to create an opportunity to safely meet with students and their families at HU," said Laurie Barrow, HU Director of Admissions. "As a true champion of access to higher education for all, especially first-generation college students, we thought it only made sense to include our fellow colleges and universities to join us for this event."
Participating schools include Temple University, the Community College of Philadelphia, Arcadia University, Kutztown University, Hussian College School of Art, Penn State University, and 14 other colleges and universities.
College Possible, a Community-Based organization (CBO) which has been delivering access and success programming in the greater Philadelphia region since 2014, also will be in attendance. College Possible provides intensive coaching and support to high school and college students from low-income, under-resourced backgrounds in Philadelphia and Delaware Counties.
College Possible representatives will deliver a 30-minute program regarding Student Engagement and College Partnerships with the goal of helping students understand the value of connecting with a CBO, ultimately helping them to be successful in college. Additionally, they will touch on the value of college and CBO partnerships that ensure students are well resourced and supported to increase persistence and college graduation. Lastly, there will be two Financial Aid presentations offered by Ursinus College and HU.
HU's center city Philadelphia location at 1500 Spring Garden Street, just across the street from the Community College of Philadelphia, is easily accessible with several parking lots and garages nearby. HU Philadelphia is also accessible via SEPTA's Broad Street Line that drops passengers off at Broad and Spring Garden Streets.
"HU is an ideal host for this event because of our commitment to 'higher education access for all' and our mantra of diversity and inclusion," Barrow said. "Everyone is welcome to attend."
For more information and to register to attend, visit the following link.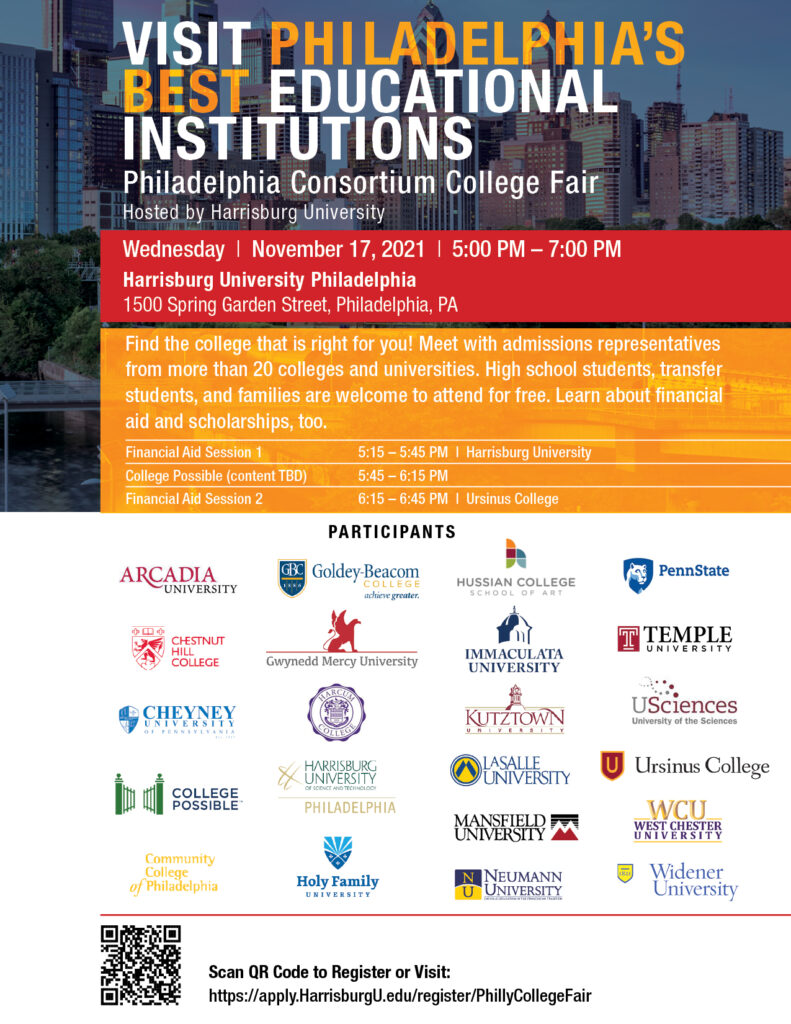 ABOUT HARRISBURG UNIVERSITY
Accredited by the Middle States Commission on Higher Education, Harrisburg University is a private nonprofit university offering bachelor and graduate degree programs in science, technology, and math fields. For more information on the University's affordable demand-driven undergraduate and graduate programs, call 717-901-5146 or email, Connect@HarrisburgU.edu. Follow on Twitter (@HarrisburgU) and Facebook (Facebook.com/HarrisburgU).