June 12, 2023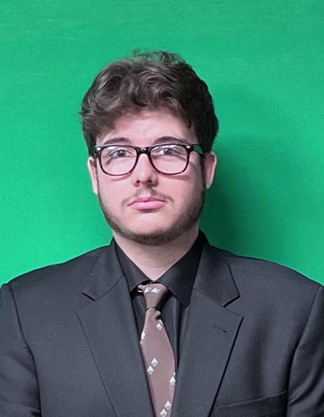 Harrisburg University (HU) student Aaron Dadoun has snapped up a coveted internship with the Lego Group at their headquarters in Denmark this fall, a rare opportunity his professors say will help the Interactive Media major build his User Experience (UX) design career skills and more.
Dadoun, a third-year Interactive Media (IMED) major with a concentration in UX design, will assist the interlocking plastic brick producer in conducting research with children and helping with a variety of different ongoing projects. Since he signed a non-disclosure agreement with Lego Group, he is unable to share additional specifics about his upcoming work with the toy company, however. He says he looks forward to collaborating with veterans of his chosen career path while overseas.
"What I am looking forward to the most is working with so many other experienced people already in the UX field, and learning more from them," said Dadoun, who is currently completing an internship with Games User Research, a UX research company located at HU.
Dadoun's growth as a UX student led to his Lego internship selection, said Nathan Aileo, HU Human-Centered Interaction Design professor. Aileo met Dadoun roughly a year ago, and he said he has watched him grow and mature.
"(Dadoun) has developed a sense of his own value and started to take himself more seriously, which has been wonderful to see," Aileo said. "I have had the distinct pleasure of helping him participate in extracurricular UX activities, including a design competition for the AAA company, a business incubator competition, and a UX research and design project for the Hershey Company."
Aileo said he introduced Dadoun to the Lego internship opportunity. Doudan took care of the rest.
"I brought it to my UXD concentration students in the IMED program. Aaron is the only one who qualified as the applicants must be EU citizens. I encouraged Aaron to apply and talked with him about it, but he took the initiative from there and applied, then went through interviews," he said. "I've been lucky to get to know many students and what their own goals are and find ways to help them reach them. For Aaron, the most important leap he has made (to my mind) is learning that he has value; his growing collection of skills and experiences and his empathetic mind make him a valuable asset to any number of companies that have human customers. It has been a wonderful treat to see him discover this in himself."
Dadoun credits HU, and professors such as Aileo and Interactive Media Program lead Charles Palmer, for helping him develop his skillset and believing in him.
Looking forward, he plans to complete his bachelor's degree in User Experience design while continuing to work in the field. He also has considered enrolling in HU's Human-Centered Interaction Design master's degree program following graduation.
"HU has been a great help by providing me the opportunity to continue UX work with academics, practice, and real-world examples with various project like Hackathons, and most recently, I provided a eport and presentation regarding a design solution," Dadoun said. "I would like to give a special thanks to Professor Aileo and Professor Palmer for helping to make this possible as well as my family, friends, and other professors at hu who have supported me in getting this far."
To learn more about HU's Bachelor of Science in Interactive Media program, and the University's other award-winning STEM undergraduate and graduate degree programs, visit https://www.harrisburgu.edu/.
ABOUT HARRISBURG UNIVERSITY
Accredited by the Middle States Commission on Higher Education, Harrisburg University is a private nonprofit university offering bachelor and graduate degree programs in science, technology, and math fields. For more information on the University's affordable demand-driven undergraduate and graduate programs, call 717-901-5146 or email, Connect@HarrisburgU.edu. Follow on Twitter (@HarrisburgU) and Facebook (Facebook.com/HarrisburgU.