September 4, 2020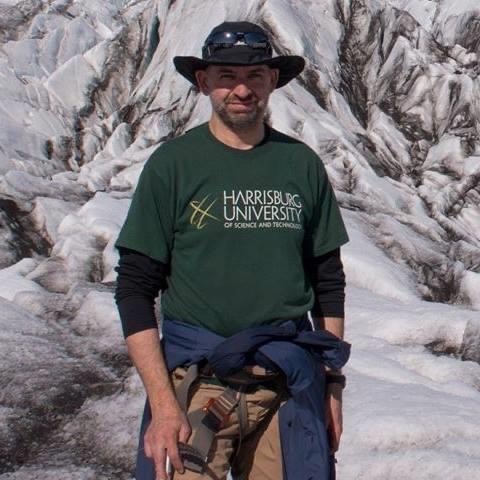 Harrisburg University is one of only a handful of universities across the U.S. to offer an undergraduate degree program in Geospatial Technology.
And without much of a framework to build on, Professor Albert Sarvis has grown it into Pennsylvania's premier Geospatial Technology Program. Whether it's students, government agencies, nonprofits, or local companies, HU is the go-to source for geospatial technology education, partnership, and services.
Having spent more than 15 years working in the geospatial technology sector, Sarvis brought an abundance of career experience when he arrived at HU in 2005. And his enthusiasm and industry expertise brings his courses, which are chock-full of hands-on learning experiences, to life.
Sarvis recently took time to share more about HU's Geospatial Science Program and the road that led him to Harrisburg University.
Meet Geospatial Technology Program Lead, Albert Sarvis:
Q: Tell us about your educational background? Where did you earn your undergraduate and graduate degrees? What did you major in?
A: I'm a local guy and got my undergraduate degree in GeoEnvironmental Studies from Shippensburg University and my graduate degree in Geography at Ohio University. I focused on Geospatial Technology, specifically Geographic Information Systems, while in grad school. Following higher education, I spent about 16 years working on Geospatial Technology projects for the Federal Government, water and gas utility consulting, and state government transportation and environmental/health consulting. During this time, I developed Project Management skills and certification.
Q: What courses do you teach at HU? Where did you teach/work before arriving to HU? When did you arrive to HU?
A: I teach most of the core courses within the Geospatial Technology Program at HU. Everything from Applied Geography and Introduction to Geographic Information Systems, up through Advanced Spatial Analysis and Geospatial Policy and Management. I especially enjoy working with student projects 1 & 2. I also work closely with the Office of Experiential Learning to provide faculty input into experiential learning and teach the senior capstone course. Oh, I also teach Digital Photography!
Q: What do you love the most about teaching at HU?
A: Many reasons but, above all else, getting to know our students and see them succeed. In fact, many of the graduates who have stayed in the area are still connected with our program and continue to support student success. Seeing the journey from high school to career is very rewarding.
Q: What are your main areas of interest for conducting research?
A: For the last four to five years I have been using Unmanned Aerial Systems to collaborate with archaeologists, geologists and environmental scientists here at HU. We work with multispectral sensors and traditional photography/videography to study and document numerous projects. This research took me to Grand Cayman to assist in the repopulation efforts for Blue Iguana, and to ancient Greece to document historic landscapes before they become developed. I also have been involved in the Digital Harrisburg project, providing GIS data development and web map products to support this initiative.
Q: Any special awards or certifications we should know about?
A: I have a Project Management Professional (PMP), Geospatial Information Systems Professional (GISP) and FAA Remote Pilot certifications and have been co-awarded five separate HU Presidential Research grants with several different HU colleagues.
Q: What do you think makes HU stand out as a University for our students and our faculty?
A: From my perspective I feel the experiential learning requirements at HU are critical to our students' success. The GSTC program started a geospatial technology center in 2013 which has grown in project volume, student employment opportunities, and expanded into Environmental Science activities. Opportunities for hands-on experiences like working in this center set our students apart from the rest.
Q: Where are you from originally? Where do you live now?
A: I was born in Philadelphia but moved to Central Pennsylvania before starting school. With the exception of a few years in Washington, D.C., Indiana, and the UK, I've remained a resident of Central Pennsylvania.
Q: Any hobbies or activities you can share? Any other life details you would like to share?
A: I love to travel and have turned that into opportunities for our students to go to places like Grand Cayman, Iceland, and Greece. My photography hobby is closely tied to this love of travel. Whenever I get the chance with my family (I'm married with two kids Ward (16) and Anne Gray (13) ) we pack up the car and camper and head out. Over the last few years, we have completed over 15,000 miles of cross-country travel. I also recently started riding motorcycles and intend to add a bit of adventure motorcycling to my travel passion.
Q: What are your thoughts on having to switch over to an online model this fall in light of the COVID-19 pandemic in terms of delivering the same quality education to our students?
A: Our academic content, enthusiasm for the material, level of rigor, and opportunities to conduct research and applied projects have not changed at all. As a University I strongly believe we have done everything we can to make the online experience maintain the real value of an HU education. I do, of course, miss the face-to-face interactions and seeing students in and around campus but we have implemented technology and communication tools to bridge that gap.
Q: Anything else you would like to add?
A: My HU experience is certainly unique. I started out as a c orporate faculty on the first day of HU classes back in 2005 and I joined HU full time in January 2011. I've seen a lot over my time at HU and have zero regrets!
About Harrisburg University
Accredited by the Middle States Commission on Higher Education, Harrisburg University is a private non-profit university offering bachelor and graduate degree programs in science, technology, and math fields to a diverse student body. For more information on the University's affordable demand-driven undergraduate and graduate programs, call 717.901.5146 or email, Connect@HarrisburgU.edu