March 17, 2023
HARRISBURG, Pa. – Harrisburg University (HU) of Science and Technology has announced a new partnership with Parker Dewey, a leading provider of micro-internship opportunities. This exciting collaboration will allow HU students to gain hands-on experience and industry-specific skills through short-term, paid projects with companies nationwide.
 As part of the partnership, HU will integrate Parker Dewey's micro-internship platform into its robust catalog of experiential learning programs, allowing students to apply their classroom learning to real-world scenarios. Through these micro-internships, students can work on projects in areas such as data analytics, project management, media production, information technology, and more.
 "Harrisburg University's partnership with Parker Dewey further extends our commitment to providing students with the skills and hands-on learning opportunities necessary to be successful in the ever-changing world of work," said Dr. A.J. Merlino, HU Associate Vice President of Student Professional Development and Experiential Learning. "We are thrilled to partner with Parker Dewey to offer our students the opportunity to gain real-world experience, build their networks, and enhance their employability."
Micro-internships are short-term, project-based, paid opportunities that typically last 5-40 hours. These opportunities are designed to allow students to work on meaningful projects while balancing their academic workload. Parker Dewey's platform matches students with companies based on their skills, interests, and career goals, allowing them to gain valuable experience in their desired fields.
HU is committed to providing students with the skills and experiences they need to succeed in their chosen careers. This partnership with Parker Dewey is just one example of the University's commitment to offering innovative, experiential learning opportunities that prepare students for the workforce.
To offer micro-internship opportunities to students, visit the following link. For students interested in applying for existing opportunities, click here.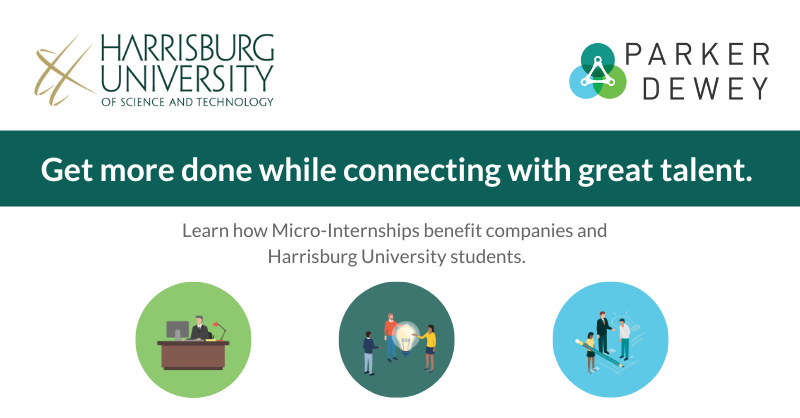 ABOUT HARRISBURG UNIVERSITY
Accredited by the Middle States Commission on Higher Education, Harrisburg University is a private nonprofit university offering bachelor and graduate degree programs in science, technology, and math fields. For more information on the University's affordable demand-driven undergraduate and graduate programs, call 717-901-5146 or email, Connect@HarrisburgU.edu. Follow on Twitter (@HarrisburgU) and Facebook (Facebook.com/HarrisburgU.)