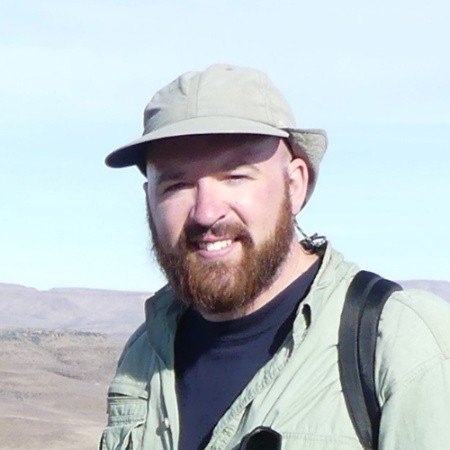 Michael Meyer, Ph.D.
Assistant Professor of Earth Systems Science
I started my journey through academia at the community college near where I lived in the Chicago suburbs, William Rainey Harper Community College. I had wanted to be a Paleontologist since I was little, but Harper only had one geology course and a world class Anthropology Department so I started out as an Anthropology major (with a focus on Meso-America and North American archeology). After getting my A.A. I then transferred to Beloit College in Beloit, WI where I got my B.Sc with a double major in Geology and Anthropology. After doing my bachelor's thesis on a project in southern Florida I then went to the University of South Florida in Tampa, FL; getting my M.Sc in Geology. I expanded by analytical background while a worked on Ph.D at Virginia Tech. There I got into Earth Systems, material science, and the beginning of the statistical techniques that have led to my interest in 'Big Data Geosciences'.
Teaching and Research Interests:
My early work focused on the earliest multicellular fossils in the rock record from the Ediacaran Period (635–541 million years ago). During that time period the Earth was like an alien planet compared to now! The atmosphere and ocean looked nothing like we know them today and nothing lived on land. So understanding Earth Systems back then is very important for understanding the development of life in such an environment. That work led to my broadening of my interests to include in material science, geochemistry, and 'Big Data' analysis. Since coming to HU I have published on a new fossil (from Hummelstown!) and possible asteroid impact debris in southern Florida. I am also working on bringing virtual reality field trips to HU and investigating the hydrological systems of the Susquehanna River Basin.
Earth Systems are interesting to me because they encompass so much, both in scope (the entire planet!) and in our everyday lives. The air we breathe, the water we drink, and the soil we farm are all part of inter-related systems that span from hours to tens of thousands of years. Alterations to any part along these systems causes changes that can, and do, affect us.
Education
Ph.D. –Geosciences, Virginia Tech, VA, 2013
Dissertation: "Contributions to late Ediacaran geobiology in South China and southern Namibia"
M.Sc. –Geology, University of South Florida, FL, 2010
Thesis: "How Synthetic is Vendobionta Morphology? A Geometric Morphometric Study of Pteridinium from the Latest Neoproterozoic"
B.Sc. –Geology and Anthropology, Beloit College, WI, 2007
Thesis: "Reconstructing the depositional environment of a late Pliocene shell bed in Florida: Insights from benthic foraminifers"
A.A. – Anthropology (emphasis), William Rainey Harper College, Palatine, IL, 2004