January 12, 2022
Harrisburg University's Offices of Career Services and Experiential Learning are proud to offer the University's annual Spring Career Week series of events Feb. 14th– 18th 2022.
Each of the events will highlight professional development, career preparedness, job opportunities and internship assistance.
HERE is a copy of the full schedule and registration information. A few events to highlight include:
Job & Internship Bootcamp (Virtual Event) – A panel from partnering companies will present best practices for showcasing your skill set and standing out from the crowd at a career fair. Topics will include preparation, dress, non-verbal communication, what to expect during a career fair, and elevator pitches. This session will also allow for student questions and assist students with becoming more comfortable during future career fairs. Register today for the
Central Pennsylvania Employment Consortium (CPEC) Job & Internship Fair (In Person Event)** – Nearly 100 employers will be providing on-site interviews, collecting resumes, and providing company information. The fair is hosted at the Penn Harris Hotel, Trademark Collection by Wyndham. For more information, please visit the CPEC website.
**The Career Fair is still currently slated to be in person but we will alert the HU community if a change is announced that it will be offered virtually.
Innovative Interns – A Student's Perspective (Virtual Event) – Hear from a panel of students that will present about their internship experiences! Topics will include discussions of work completed during their internships, collaborating with the internship supervisor, key skills to thrive in an internship, and much more!
There Is More to a Salary! How to Evaluate a Total Compensation Package (Virtual Event) – Hear from a panel of industry experts and HR gurus on how to evaluate and understand a compensation package through your job search. This session will also allow for student questions and assist students with becoming more comfortable in evaluating multiple job offers.
Understanding Your Student Loans – Collaboration with HU Financial Aid (Virtual Event) – Are you graduating this semester? If so, this is the presentation to you! In this session you will learn the basis of preparing yourself for student loan repayment. HU's Assistant Director of Financial Aid will be providing his expert advice and will also be available for questions.
The Offices of Career Services and Experiential Learning look forward to the opportunity to collaborate on these upcoming events, and would be more than happy to send a video that goes into detail about these events or supply information that can be added to your Canvas pages. Please feel free to link to the registration page as it will also be listing numerous virtual career and internship fairs taking place in Philadelphia and other areas in the region. Lastly, for our virtual events, recordings will be available approximately 1-2 weeks after Career Week.
The offices would also like to thank all of the Harrisburg University staff, faculty, GTI sponsors, other regional partners and the students for making the 2021 Fall Career Week a success. Your commitment to and support of our offices has helped us impact the lives of our students, including our students getting interviewed and hired based on opportunities they learned during our events.
If there are any questions, please do not hesitate to reach out to careerservices@harrisburgu.edu.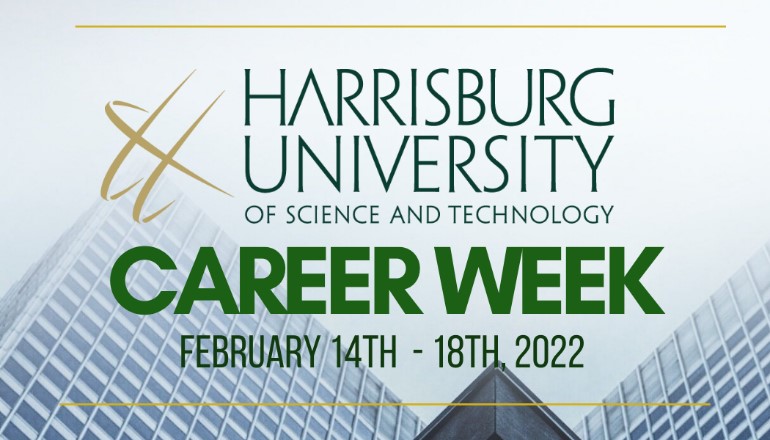 ABOUT HARRISBURG UNIVERSITY
Accredited by the Middle States Commission on Higher Education, Harrisburg University is a private non-profit university offering bachelor and graduate degree programs in science, technology, and math fields. For more information on the University's affordable demand-driven undergraduate and graduate programs, call 717.901.5146 or email, Connect@HarrisburgU.edu.