January 27, 2023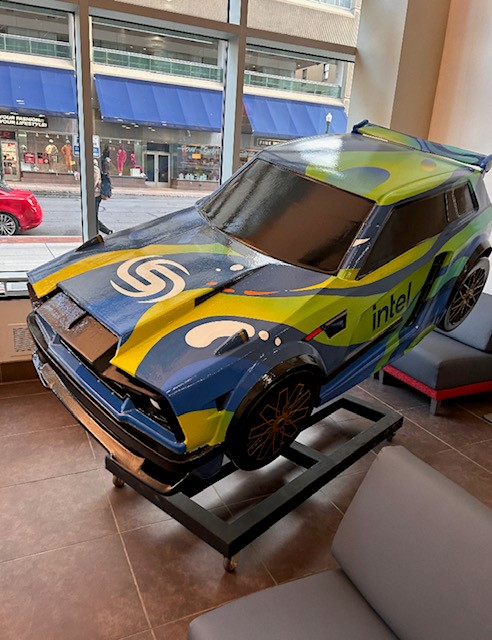 Don't worry, you're not seeing things.
Those really are cars lifted off the ground in the lobbies of Harrisburg University's Harrisburg and Philadelphia locations.
Specifically, they're replicas of the in-game car used by the Harrisburg-based, championship-winning professional Esports team, the  Soniqs, when they compete in Rocket League. The replica cars are on display in the Harrisburg and Philadelphia locations to showcase the team's dedication to the Rocket League scene and give fans a chance to see the car up close.
HU President Dr. Eric Darr and Professor Charles Palmer help provide strategic direction and content for the Soniqs. And the Soniqs provide experiential learning opportunities to HU STORM players and students enrolled in the University's Bachelor of Science in Esports Management, Production, and Performance program.
The cars on display may also be used in future Rocket League broadcasts and community events. The length of time that the cars will be available for viewing is currently undetermined. So, the next time you pass through the lobby of either building, be sure to stop by and grab a picture. The cars make great selfie backdrops!
ABOUT HARRISBURG UNIVERSITY
Accredited by the Middle States Commission on Higher Education, Harrisburg University is a private nonprofit university offering bachelor and graduate degree programs in science, technology, and math fields. For more information on the University's affordable demand-driven undergraduate and graduate programs, call 717-901-5146 or email, Connect@HarrisburgU.edu. Follow on Twitter (@HarrisburgU) and Facebook (Facebook.com/HarrisburgU).