June 27, 2023
Lauren Edgell, Ed.D., Harrisburg University Director of Online Learning Technologies and Professional Development, will deliver a presentation at the International Conference: Future of Education Friday.
Edgell's presentation is based on a recent study she completed with Dr. Judith Stull of Temple University, titled, "Did the Emergency Transition to Online Instruction Due to COVID-19 Impact Faculty Self-Efficacy for Online Teaching?"
The conference, set to take place in Florence, Italy, and online, brings together teachers, researchers, practitioners and project managers from across the globe to share findings, expertise, and experience about innovative teaching and learning methodologies.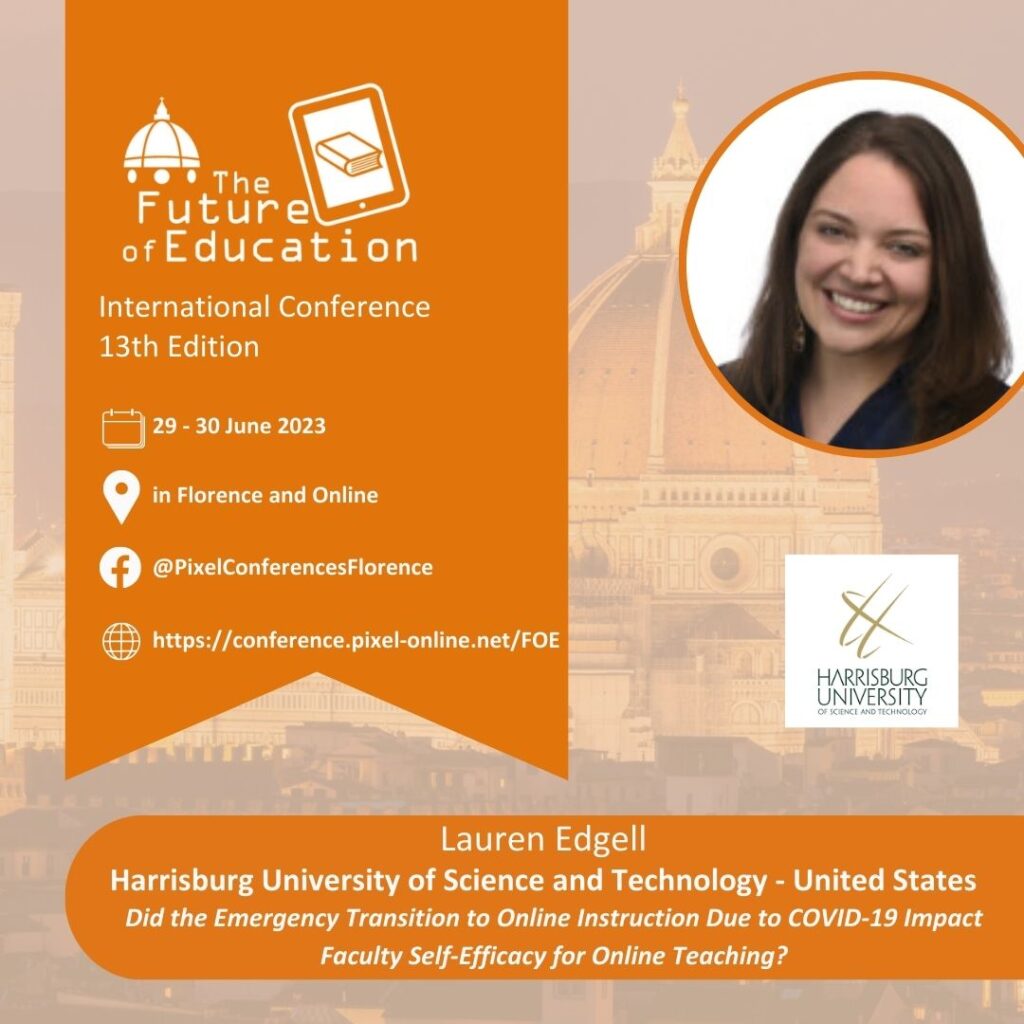 The study's abstract can be found below:
The Purpose of this study was to examine the effect of the emergency transition to online instruction due to COVID-19 on faculty self-efficacy for online teaching. A survey was constructed by adapting items from multiple previously vetted instruments into a retrospective pre-test/post-test design. Data were collected in January 2022 from 83 faculty at a private, STEM-focused university in Pennsylvania. On average, respondents increased their online teaching load by approximately 25% as a result of the emergency transition due to COVID-19, after which they showed a statistically significant increase in online teaching self-efficacy with a very large effect size. Dispersion was lower in the post-COVID time period. Also, the more change to their typical course delivery mode a faculty experienced, the greater the increase in their online teaching self-efficacy. These findings suggest that the universal experience of the emergency transition to online instruction due to COVID-19 may have had an equalizing effect on online teaching self-efficacy. Age and scores on measures of teaching self-efficacy not specific to online instruction had statistically significant relationships with online teaching self-efficacy in separate pre- and post-COVID regression models; however, a Chow Test indicated that there was no statistically significant difference between the two equations with all parameters taken together. Administrators should consider diversifying the modalities in which faculty teach to provide ongoing exposure to online teaching, which will support faculty online teaching self-efficacy and, thus, help prepare universities for any future unexpected transition to online instruction.
For more information about the study, visit this link. To learn more about the conference, click here.
ABOUT HARRISBURG UNIVERSITY
Accredited by the Middle States Commission on Higher Education, Harrisburg University is a private nonprofit university offering bachelor and graduate degree programs in science, technology, and math fields. For more information on the University's affordable demand-driven undergraduate and graduate programs, call 717-901-5146 or email, Connect@HarrisburgU.edu. Follow on Twitter (@HarrisburgU) and Facebook (Facebook.com/HarrisburgU.