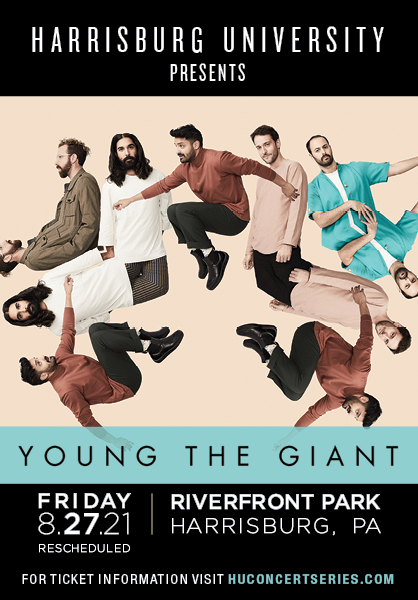 Harrisburg University Presents has added the Young the Giant concert to its outdoor summer concert lineup at Harrisburg's Riverfront Park on Friday, Aug. 27.
Rescheduled due to the COVID-19 pandemic, the concert is the first of four shows HU Presents will host at Riverfront Park this summer.
The Riverfront Park shows include:
8/27 Young the Giant
8/28 Jason Isbell and the 400 Unit
9/23 Cage the Elephant
9/25 Portugal. The Man
Tickets for the Young the Giant concert are $55 and are all general admission.
For tickets and additional information, http://HUConcertSeries.com/.
About Harrisburg University
Accredited by the Middle States Commission on Higher Education, Harrisburg University is a private non-profit university offering bachelor and graduate degree programs in science, technology, and math fields to a diverse student body. For more information on the University's affordable demand-driven undergraduate and graduate programs, call 717.901.5146 or email, Connect@HarrisburgU.edu.