Harrisburg University has partnered with the Central Pennsylvania Food Bank to make sure students living in dorms during the COVID-19 campus closure get the meals they need throughout the remainder of the spring semester.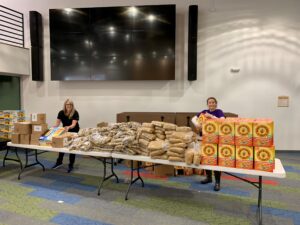 Brian Humphrey, HU Manager of University and Community Partnerships, helped secure a truckload of food donated from the food bank Monday. Staff and student volunteers helped unload the food bank truck and put together meal boxes for the roughly 130 students who are living in their dorms as they finish the semester via online courses. The university moved all undergraduate and graduate courses online in response to the COVID-19 pandemic.
The food bank donated more than 5,000 pounds of food to our students. The donation is expected to last students, most of whom have full kitchens in their apartment-style dorms, throughout the remainder of the semester.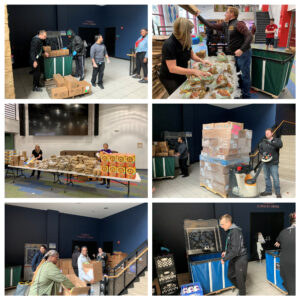 "We have a little over 130 students living in the dorms for a variety of reasons. Due to the COVID-19 pandemic, some have lost their part-time jobs that sustain them. Others have anxiety about going out to the grocery stores and other public places right now. This food donation takes a layer of anxiety away from our students," said Nayeem Islam, Associate Director of Student Life.  "These food donations helps students focus on their online studies while staying safe in their apartments."
Eligible students will receive an email from the Student Services Office telling them when they can pick up food. The first round of donations will be available at 3 p.m. today.
For Junior Sybil Akpor-Mensah, a Resident Assistant at HU, the food bank donation has lowered her stress level.
"Now, I definitely know there will be food there for me. I don't have to worry about going to the store and looking for food that isn't available right now," she said. "Going to the store has been stressful. But knowing that HU has provided this food drive is helpful. HU is making sure that we are ok."
In addition to the food boxes, staff and faculty have donated other items to provide personal care packages to students. The student services team put the boxes together for students last week. And the Student Services Office remains open for students as they continue their courses online.
The Office of Career Services also is open, virtually, during the coronavirus crisis, serving the career needs of undergraduate and graduate students as well as alumni.
Moving to a virtual setting has not hindered the ability to work with the HU community for Jeff Kayer and Kristin DiMatteo, Harrisburg University's Employer Relations & Career Development Coordinators.
The Office of Career Services has spent the past week working with regional employer partners and successfully identified a multitude of opportunities for HU students. Companies like WebFX, Eurofins Labs, PHEAA as well as the commonwealth of Pennsylvania have actively encouraged students to apply and have identified ways to interview them virtually using programs like Skype and Zoom.
It's taken a total team effort between faculty, staff, students, and the community to continue providing the same excellent level of student support that HU is known for. To find out how you can help students, via donations of non-perishable items and more, please contact connect@harrisburgu.edu.
For the latest updates on Harrisburg University's response to the COVID-19 pandemic, visit this Link.
About Harrisburg University
Accredited by the Middle States Commission on Higher Education, Harrisburg University is a private nonprofit university offering bachelor and graduate degree programs in science, technology, and math fields to a diverse student body. For more information on the University's affordable demand-driven undergraduate and graduate programs, call 717.901.5146 or email, Connect@HarrisburgU.edu.