October 31, 2018
For the second year straight, Harrisburg University partnered with the Commonwealth of Pennsylvania to bring civic hacking to Pennsylvania in an event that took place over two months and spanned three Pennsylvanian cities: Harrisburg, Philadelphia, and Pittsburgh.
Code4PA: Addressing the Opioid Epidemic, took on two unique initiatives from the Governor: The Open Data Initiative and the Opioid Disaster Declaration. The goal of the event was to leverage state data to address the opioid epidemic, which claims the lives of nearly 10 Pennsylvanians every single day.
"The opioid crisis affects Pennsylvanians from all walks of life and all parts of our state," said Gov. Tom Wolf. "Through the command center, opioid dashboard and partnerships like Code4PA, my administration is taking an equally broad approach to identifying solutions to save lives."
The grand prize winner, Abraca-data, developed a mobile app that connects users with providers/resources based on location, submitted information, and a learning algorithm that improves matches over time.
Participating teams hailed from across the tech sector and beyond. Harrisburg University, in addition to hosting and sponsoring the event, contributed students and faculty to four of the 28 total teams. They were Demacian, HU2Rescue, HUSaviors, and LMSquare. Three of those teams, Demacian, HU2Rescue, and LMSquare, made it through the regional rounds, and one, HU2Rescue, took home the prize for the Best Prototype/API in the finals.
HU2Rescue, led by Dr. Siamak Aram, HU professor of Analytics, developed an app named the Pennsylvania Clearing House for Treatment (PACT), to more efficiently connect people in need to recovery facilities. In addition to Professor Aram, the team included Anshuman Chakravarty, Kristen Shelton, Mansi Joshi, Theres Rungenhagen, Vidya Sridharan, and William Burg.
HU2Rescue developed an end-to-end solution with a two-pronged approach to prevent Opioid Use Disorder that stems from legal medical prescriptions. The tool more efficiently connects people suffering from OUD to resources, including PACT and the Pennsylvania Opioid Prescription registry (POP).
The app can be used by those suffering from addiction and their families, healthcare providers, state agencies, and even data scientists.
"With PACT, we not only offer information to people who are suffering from Opioid Use Disorder and their loved ones, but also provide a framework by which these victims can be admitted into rehab in a timely manner," Professor Aram said. "Code4pa gave us a platform to give back to the community, using collective skill sets gained at Harrisburg University and our past professional and academic endeavors."
"Moreover, we found the need to focus our energies constructively to support the Pennsylvania government in its efforts to mitigate excessive opioid consumption in the state," he added. "If our project will be implemented in Pennsylvania successfully, we hope to setup a similar infrastructure in other states."
Team Demacian, led by Analytics Professor, Dr. Billie Anderson, analyzed data to develop a recommendation system based on composite scores to determine which Pennsylvania counties are more at risk of overdoses, babies addicted to opioids, drug-related arrests, and naloxone reversals.
In an unprecedented move, during the regional round, judges asked teams Demacian and GeoDecisions to pitch their projects together during the finals, as one team was analysis-heavy, but missing a design piece. The other project was development/design heavy and missing the data analytics piece.
"I was in awe of the sportsmanship that teams Demacian and GeoDecisions displayed," said Lauren Lewis, who is on the Professional Development team behind the Code4PA event. "Their collaboration captured the spirit of a codeathon, and it was something that made me proud to work here at HU."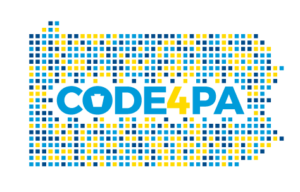 Participating teams used data published to the state open data portal, found at opendata.pa.gov, and formulated projects based on suggestions by agencies and private sector stakeholders involved in fighting the opioid epidemic. Data from other openly accessible resources also could be integrated into the projects.
Team LMSquare, a regional finalist and HU student team, analyzed State Police data to predict the likelihood of an opioid overdose so that the life-saving drug, Naloxene, could be better supplied to statistically higher risk and underserved areas.
Participants could follow one of three challenge tracks: Preventing Opioid-Use Disorder, Rescue-Saving Pennsylvania Lives, and Ensuring Access to Treatment. Projects were pitched Oct. 20, and the winners were announced the same day.
The Grand Prize winner receives recognition from the Governor's office, a photo and press release, a video posted to the Code4PA website, and lunch with key commonwealth staff. HU2Rescue took home a Harrisburg University prize package.
The Pennsylvania Office of Administration, Harrisburg University of Science and Technology, Code for Philly, Technology Council for Central PA, Western Pennsylvania Regional Data Center and industry sponsors provided the facilities, hardware, software and other support for the event.
"Harrisburg University is proud to have played a leadership role in hosting this event with the Commonwealth. And I would like to thank the students and faculty of Harrisburg University, in addition to all other participants, who invested a significant amount of time and energy to address this important issue," said Harrisburg University President, Dr. Eric Darr.
"The Code4PA Codeathon pulled together talent from the University and the community, and I think the expertise gathered is reflected in the presentations and innovations developed during the event. I look forward to tracking the advances these innovations produce in the battle against opioid addiction."
See team presentations, videos and pictures from Code4PA: Addressing the Opioid Epidemic.