Date/Time
Date: 5/23/2019
Time: 12:00 pm - 1:00 pm
Location
Harrisburg University of Science and Technology
Room 1151 | Harrisburg University of Science and Technology
---
View Recording
Does your organization need data skills?  Do you need a data analyst, data scientist, or a statistician? 
This community forum will describe the commonalities and differences among these job titles.  As an active participant in the forum, you will be requested to share the specific data skills your organization needs to better assist your organization in deciding which job title and roles are the best fit for your organization.
Bring your lunch and learn! 
---
Dr. Billie Anderson
Professor of Analytics
Harrisburg University of Science and Technology
Dr. Billie Anderson is a Professor of Analytics at Harrisburg University. She currently teaches a graduate level Data Visualization course in the Analytics program at Harrisburg University. She also is the lead instructor and developer for a Data Analytics Certificate Program for working professionals. In the certificate program, she works with local government and businesses to help them assess their analytical maturity. The certificate program allows participants to develop a plan for their organization to obtain a higher level of analytical maturity.
---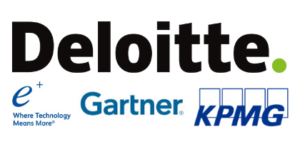 "Deloitte is proud to support Harrisburg University's Government Technology Institute and to collaborate with the Harrisburg University Community to assist in the ongoing development of the next generation of the Commonwealth's IT professionals. We share with Harrisburg University a commitment to the core values of leadership, integrity and strength through diversity to make a lasting impact that matters for our communities and our Commonwealth."
– Deloitte, GTI, SCE, & AI Sponsor
"We help customers assess their technology and business needs while advising them on the most effective IT strategy for their organization in order to improve customer experience and drive business outcomes."
– ePlus, GTI, SCE, & AI Sponsor
"As a Big Four professional services company, we believe in collaboration and helping create productive government solutions that work. Few institutions nationally have tried to foster such productivity, and no one in our view does it better than HU. We are proud that our partnership and activity with the Institute aids in HU's extraordinary service across the Commonwealth."
– KPMG, GTI, SCE, ALC, & AI Sponsor
Programs
Harrisburg University offers professional development trainings, certification programs, exam prep and more.
Events
Join us for free community forums, summits, conferences and other upcoming professional education events.