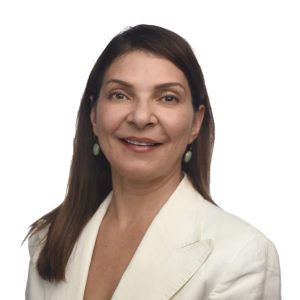 Doaa Taha, Ph.D.
Assistant Vice Chancellor of Academic Partnerships, Assistant Professor & Program Lead in Analytics for Dubai Campus
Dr. Doaa Taha teaches Analytics & Data Science at Harrisburg University. Her key areas of research and curriculum design are in Exploratory Data Analysis, Big Data, Optimization, Systems Engineering, and Crisis & Emergency Management. At HU, she is involved with its E3 program and its STEM-up initiative. She serves on the HU Curriculum Committee.
Dr. Taha is passionate about Women in STEM and is part of several professional women's groups in data science, technology and engineering. She enjoys advising her graduate students and is big on experiential hands-on learning, connecting subject matter to real world solutions.
Dr. Taha is an entrepreneur who led a number of diversified global business development portfolios, notably co-founding global boutique Strategic Advisory Services firm company, Grey Matter LLC, based in Washington D.C. Doaa is also a respected Civil Society Leader and is the Founding Chair of the American Arab Women's Empowerment Forum, the leading Non-Profit Women's Organization within that Community; she is also the National Board Secretary of the ADC, the oldest, largest and foremost civil rights organization of the American Arab Community, promoting and defending the values enshrined in the United States Constitution, and of its Research Institute (ADC-RI), where she is a National Board Director, a Member of its Executive Committee and the Chair of its Nominations Committee.
Doaa is involved with multiple non-profit platforms, including some linked to major think tanks as well as being on the Advisory Council of Women Forward International. Doaa was previously Senior Advisor, for its Middle East & North Africa Program, to the International Women's Media Foundation (IWMF), leading its global assignments, raising full funding of the translation in all 4 Middle Eastern languages of the development of its Journalism Smartphone Security App, including its Testing and Training Workshops, and leading the IWMF delegation to the Arab Media Forum in Dubai.
A George Washington University Doctoral Alumnus in Engineering Management and Systems Engineering (School of Engineering & Applied Sciences), with a background in Operations Research (Major in Management Science) and Electrical Engineering (with specializations in Telecommunications & Electronics / VLSI Chip Design), Doaa was the Senior Research Coordinator at the GWU-DHS Institute for Crisis, Disaster and Risk Management, for the Research Grant Program funded by the National Science Foundation (NSF) on Post-9/11 Corporate and Institutional Risk, Crisis, Disaster and Emergency Preparedness, Response and Management, after having led, as a Software Engineer, the Hardware Engineering Electronic Chips Lab Automated Bench for Axcelis (Eaton Corporation), her remediation of the testing protocols there having improved quality to the point that Axcelis went from securing 15% to 50% of the world market share in Chip Wafer Matrix Production. Before that, Doaa taught at The George Washington University's School of Engineering and Applied Sciences, and was previously also a Customer Engineer at Giza Systems for Computers, Egypt's leading private IT Company, advising its CEO on Customer Needs Analysis and Network Solutions.
Doaa is a published researcher, author, co-editor, and peer reviewer on a number of Academic and Professional areas of endeavor, including Big Data, Data Science, Corporate Disaster Preparedness, E-Government, Public-Private Partnerships, Bringing Technology to the Market and Women's Leadership in Engineering, Science & Technology, an area for which she advised the U.S. Assistant Secretary of State for Global Affairs, during a USG-cosponsored Program focusing on these issues in the Middle East & North Africa, and for which she led a research project promoted by the European Union. Her work on Soft Skills and Early Childhood Learning & Cultural Awareness were retained as best practices by the World Bank.
Doaa is married and has two daughters.
Education
D.Sc. In Engineering Management, the George Washington University, Washington, D.C., USA.
M.Sc. in Operations Research and Management Science, the George Washington University, Washington, D.C., USA.
B.Sc. in Electrical Engineering and Telecommunications, Zagazig University, Egypt.