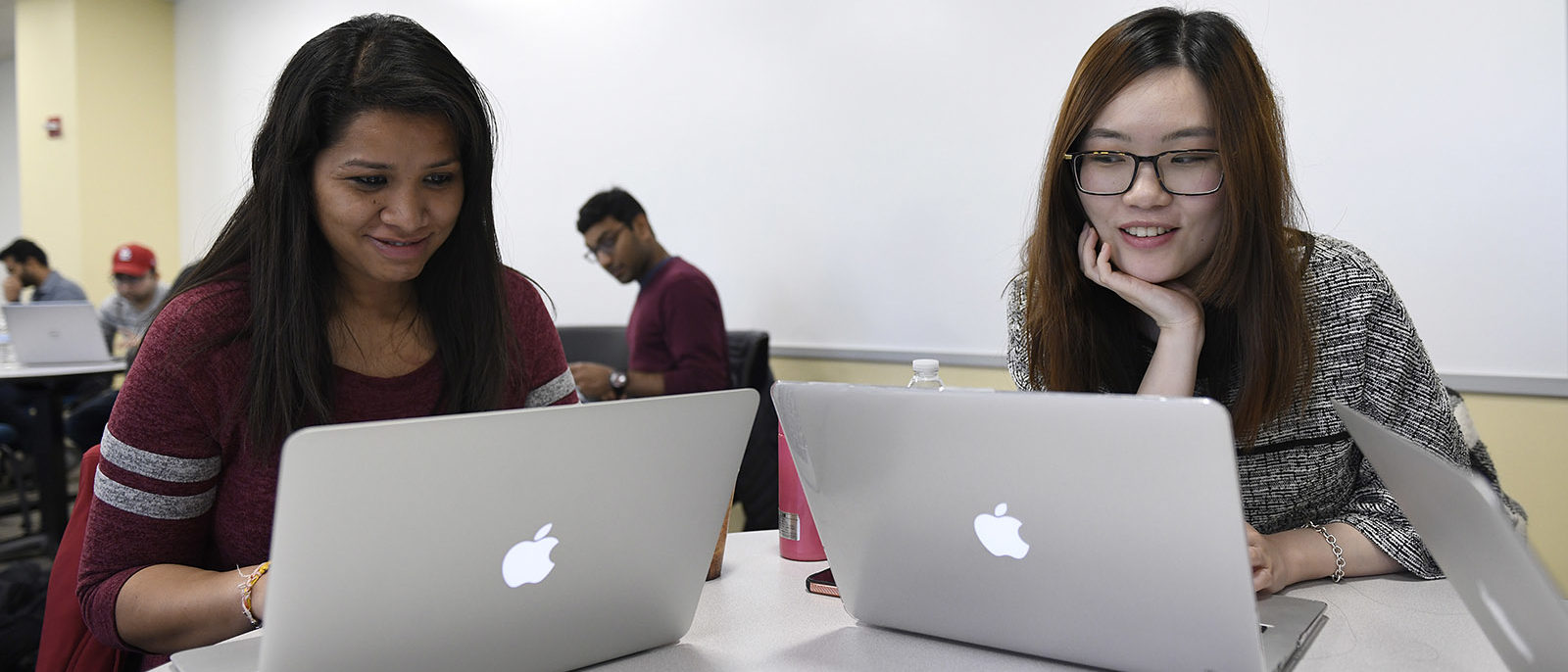 Self Study – University Wide Outcomes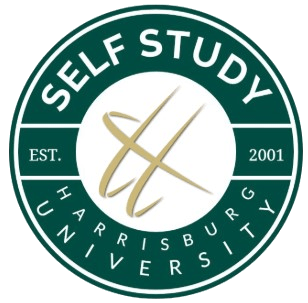 Middle States Self Study Process
Also known as Middle States Commission on Higher Education, MSCHE is Harrisburg University's regional accreditor. Each member institution, approximately 525, completes a comprehensive self-study every eight years. The self-study process guides the HU Community through the research-design, the development of the self-study report, and hosting a 2.5-day site-visit by peer educators and administrators over two years.
The official kick-off for the self-study occurred on October 28, 2019, with the 2019 Self-Study Institute hosted by MSCHE in Philadelphia. Harrisburg University's team of Self-Study Co-Chairs attended a variety of sessions over 2.5 days to learn about the processes, revised standards, and content expectations for the comprehensive self-study initiative.
One Middle States expectation is broad-based community involvement in the self-study process. The HU Community uniquely excels in community commitment, as demonstrated through recent accounts of serving the HU students and colleagues over the past few months.
Members of the self-study working groups pledge continuous information sharing and engaged participation through this Self-Study site as the HU Community conducts an exciting, reflective institutional examination driven by continuous success and innovation.
How Can I Help?
The Self-Study officially launches July 1, 2020, with a Self-Study Design approved by the University's MSCHE Liaison, Dr. Christy Faison. Below are just a few ways to participate in examining HU and telling the HU Story.
Contribute by answering the call and providing input to the working groups
Provide feedback during the call-for-comments periods
Update the working groups about new initiatives, advances, or changes about a functional area or academic program
Attend self-study briefings and informational gathering opportunities
Remain aware of the Self-Study's progress over the next 18 months
Recognize completing the self-study report, and a successful site visit requires time on task
Contact the working group's Co-Chairs or reach out to the self-study Co-Chairs, to volunteer as a member of a working group.
Helpful Information and Links
Self Study Leadership
President
Eric D. Darr, Ph.D.
Chief Operating Officer and Chief Financial Officer
Duane F. Maun, CPA
Provost and Chief Academic Officer
Bili S. Mattes, Ed.D
Associate VP & Chief Information Officer
Alexander C. Pitzner
Vice Provost for Institutional Effectiveness
Glenn Mitchell, MD, MPH, CPE, FACEP
University Registrar
Sandra Nelson, Ed.D
Director of Assessment
Penny L. Weidner
Assistant Professor of Geospatial Technology & Director HU Geospatial Technology Center
Albert Sarvis, PMP, GISP
Working Groups' Structure
Overall Self-Study Committee Stucture
Communication Updates
Self-Study Design Submitted – April 1, 2020
Self-Study Design Virtual Site-Visit – May 19, 2020
Self-Study Design Approval – June 30, 2020
Self-Study Launch – July 1, 2020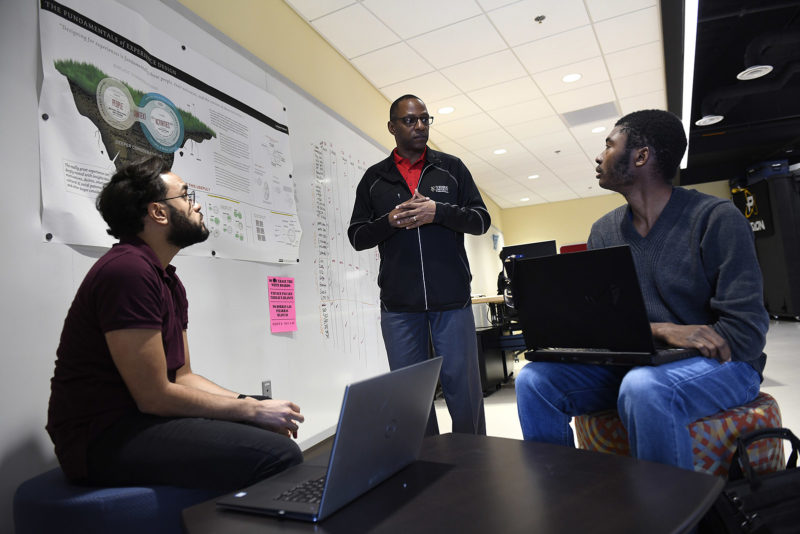 Self Study

Volunteer

Are you interested in volunteering to be part of the Middle States self-study process?  The full self-study process will take about two and a half years, and volunteer commitments can be short-term or long-term.  It's important to have people from across campus, including faculty, students, staff and administrators, to take active roles in the process – we need everyone's voice!

Please contact Penny Weidner, Director of Assessment, at pweidner@harrisburgu.edu to volunteer.
Self Study Priorities and Outcomes
With the inputs from hosted student events, discussions with faculty and staff, and alignment with the institution's mission, vision, and strategic goals, Harrisburg University identified five institutional priorities and outcomes to focus the self-study. The institutional priorities and intended outcomes framing the study were defined then shared with University leadership for final approval.
Defined Priorities
Student Success includes the myriad planned educational and social experiences orchestrated to provide social, emotional, and academic development of Harrisburg University students. Civic engagement, research initiatives, and continuous individualized support combined with academic course work lay the foundation for successful STEM students at HU while bolstering the university's continuous growth in retention, persistence, and completion rates.
Continuous Improvement remains the central pillar for the university's academic and operational units. Recognizing the synergy between improvement and self-evaluation, the entire HU community strives for improvements in student and employee services, operational and tactical planning, and evidence-based decision-making associated with student success. institutional growth and positive local, regional, and global impact.
Growth and Sustainability are closely connected for a relatively young university since endowment support is minimal and operational income provides sustainability for both stable staff employment and programmatic expansion.
Innovation has been a central theme at HU since its inception with required experiential learning as part of the undergraduate curriculum; rigorous applied project or thesis work as part of the master's degree programs; and innovation and original work as integral to the new PhD programs. The entrepreneurial spirit, enhanced by corporate faculty from the broad science and technology industries, is a dominant force in the ethos of HU's faculty as it develops graduates capable of immediate contributions to the regional, national, and global economy.
Infrastructure supports student life and classroom environments, staff professionalism, and even the well-being of the surrounding downtown economy. The growing university is expanding its structural presence in Harrisburg as well as developing the ability to support distributed educational settings elsewhere to provide a consistent educational product to more students interested in the HU approach.
Intended Outcomes of Self Study
Operating from principles of continuous improvement and managing growth, the HU community structured an inclusive, standing Institutional Effectiveness Committee for advancing student success, ensuring institutional planning, and meeting the University's mission as the University grows. Recognizing the self-study process denotes one mechanism of demonstrating responsibility, the HU community structured the following five intended outcomes. Additionally, the proposed outcomes and self-study process contributes to framing the appropriate action plans following the self-study.
Intended outcomes include to:
Provide a concise, accurate analysis of findings, recognizing strengths and gaps, and proposing actionable recommendations across the five identified priorities and the University mission.
Engage the entire Harrisburg University community in a thoughtful and transparent self-assessment process.
Identify opportunities to enhance and sustain the rigor and extent of the University's Institutional Effectiveness Committee's on-going contributions to serving students and staff.
Identify the elements necessary to design an effective internal and external communication plan to support the needs of a growing institution.
Demonstrate how Harrisburg University consistently meets MSCHE standards, Requirements of Affiliation, and all federal compliance mandates.
Self Study Accreditation
Harrisburg University of Science and Technology is accredited by the Middle States Commission on Higher Education, 3624 Market Street, Philadelphia, PA 19104. The Middle States Commission on Higher Education is an institutional accrediting agency recognized by the U.S. Secretary of Education and the Council for Higher Education Accreditation.
Program offerings are authorized by the Pennsylvania Department of Education, Bureau of Postsecondary and Adult Education, 333 Market Street, Harrisburg, PA 17126.
The Maryland Higher Education Commission granted approval of an authorization to operate at the Southern Maryland Higher Education Center for the Master of Science in Learning Technologies and Master of Science in Information Systems Engineering and Management degree programs.
Approved to participate in the federal Title IV, HEA student assistance programs by the U.S. Department of Education, 7th & D Streets, SW, Washington, DC 20202.
Approved by the Pennsylvania Department of Education for veterans and eligible dependents to obtain education benefits through the Veteran's Administration (VA).
Approved by the Veterans Administration to participate in the "Yellow Ribbon" program.
Authorized under federal law by the Department of Homeland Security – U.S. Immigration and Customs Enforcement (DHS-USICE) as an eligible institution for the Student and Exchange Visitor Information System (SEVIS) to enroll non-immigrant students.
An articulation agreement with another institution of higher education permits students enrolled in certain associate degree programs to transfer credits into specific degree programs at the university. The university has articulation agreement with the following institutions: Harrisburg Area Community College; Community College of Baltimore County; Lehigh Carbon Community College; Hussian School of Art. Additional articulation agreements are being pursued with various institutions of higher education.
A consortium agreement with another institution of higher education allows a student to remain enrolled at the university while also taking credits at the visiting institution. The university has a consortium agreement for certain nanobiotechnology courses with The Pennsylvania State University – University Park Campus, and, the university has a consortium agreement for certain computer science courses with Saint Francis University.