Tech & Town Week
A celebration of the energy pulsing through HU and the city of Harrisburg!
Welcome to Tech & Town Week, a celebration of the energy pulsing through HU and the city of Harrisburg! Browse this schedule, and you'll find events that entertain, educate, and enlighten.
Four concerts herald the return of the live music we've missed so much and that has become an HU hallmark.
Build your career skills with professional development opportunities. Find your next employee or intern, fully equipped to recharge your workplace, from the students studying at our world-class university.
Cheer on HU Storm in our esports invitational, the largest collegiate esports competition in the U.S. Tech & Town Week spotlights the transformation that HU is sparking in central Pennsylvania and the partnership with our dynamic host city that makes it possible. Join us!
Email Connect@HarrisburgU.edu for sponsorship information for any of the events, or to receive more information.
Saturday, September 18th

HUE INVITATIONAL
The biggest Tournament in collegiate Esports is back.
Group play. 32 Teams. 2 days
Overwatch Tournament
League of Legends Tournament
Location: Harrisburg University
326 Market Street, Harrisburg, PA 17101
11th floor room 1151

HU CONCERT SERIES – Grouplove
Location: Club XL
Grouplove is an American alternative rock band that was formed in 2009 by Hannah Hooper (vocals, keyboards), Christian Zucconi (vocals, guitar), Daniel Gleason (bass), Andrew Wessen (guitar, vocals), and Benjamin Homola (drums).
Sunday, September 19th

HUE Invitational
Doors open 12pm.
Semi and Finals
The biggest tournament in Collegiate Esports is back.
Overwatch Tournament
League of Legends Tournament
Location: Club XL, 801 South 10th Street, Harrisburg 17104
Monday, September 20th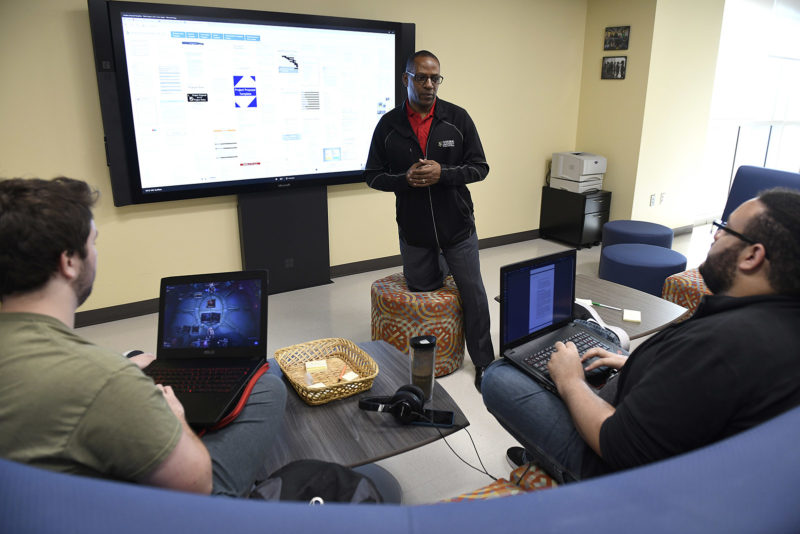 HU Faculty and Staff Campaign
Harrisburg University Employees Give Back
The Harrisburg University family consists of students, alumni, community members, business partners, and donors. However, one of the strongest groups in the HU family consists of the HU faculty and staff. With an innovative spirit and deeply rooted commitment to our students, HU faculty and staff are critical to the success and growth of our student population and our organization as a whole.
During the Tech and Town week, HU faculty and staff will be celebrated for their ongoing generosity during the Faculty and Staff giving campaign.  If you are an employee of HU and wish to make a donation, please contact Toni Lynn Mark at TMark@HarrisburgU.edu.
Tuesday, September 21st

Celebrating Innovation, Diversity, and Inclusion!
Innovation is about the game-changing ideas you can create by coming together in diverse and inclusive teams. This is your opportunity to share your ideas and learn from the best leaders and companies on Innovation, Diversity & Inclusion.
Questions, please email cie@harrisburgu.edu
Wednesday, September 22nd

Trivia Night
Join the Harrisburg University Library for trivia night! Play as a lone trivia ronin or a member of a team of up to five knowledge ninjas. The event will be held simultaneously in person and online, so you can choose the venue that suits you best. Trivia night is open to all members of the community. We look forward to an evening of brain-challenging trivia together!
Thursday, September 23rd

Fall Involvement Fair
Location: Online via MS Teams and HU 1st floor
Audience: Event for Harrisburg University Students and faculty
We want to welcome HU students and faculty to our Fall 2021 Involvement Fair. Harrisburg University's Involvement Fair brings together student groups to promote their activities to all students; especially to new and first-year students at HU! This is a great recruitment tool for student clubs and an awesome way for students to find out ways to get involved on campus. Students are welcome to browse the various active clubs, learn more about them and join the ones that interest them. For faculty and staff, if you are looking for more ways to get involved with students, some clubs could use advisors or supporters.
Students and Organizations can RSVP at Activities@my.harrisburgu.edu

HU Concert Series – Cage the Elephant
Location: Riverfront Park
Cage The Elephant have won 2020's Best Rock Album GRAMMY for Social Cues (RCA). The honor marks the band's second win and the third time the band has been nominated. The band won 2017's Best Rock Album GRAMMY for Tell Me I'm Pretty and was nominated in 2015 for Best Alternative Music Album for Melophobia.
Friday, September 24th

HU volunteering at Central PA Food Bank
During this Covid-19 crisis we have moved all our volunteer packing to a Central Packing Operation located at 1530-B Bobali Drive, Harrisburg, PA 17104 (located off of South 19th Street). This new location is a packing operation only with no distributions. All volunteers need to be 18 or older to help until further notice.
If you have an interest in volunteering with the Central Pennsylvania Food Bank – we truly appreciate your support as we work to fight hunger, improve lives, and strengthen communities in central Pennsylvania. If you would like to volunteer please contact Missy Hepfer at mhepfer@Harrisburgu.edu.

HU Concert Series – Dawes
Location: XL Live
It's been nearly a decade since Dawes first emerged from Southern California, carrying with them a roots-rock sound that nodded to the past – including the West Coast folksingers and cosmic country-rockers who chased a similar muse during the 1970s – while still pushing forward.
Saturday, September 25th

Great Harrisburg Litter Cleanup
Join the Harrisburg University team and register for the Great Harrisburg Litter Cleanup.
The Great Harrisburg Litter Cleanup (GHLC) is an initiative of Tri County Community Action, Clean & Green Harrisburg, and Keep Harrisburg/Dauphin County Beautiful.
The goal of this event is to come together as a community to make Harrisburg a cleaner and safer place to live, work, and play.

Fall Island Picnic
Location: City Island
Audience: Event for Harrisburg University Students
The Fall Island Picnic is a chance for HU students to enjoy some good weather out on City Island. They can play games, eat food and bond with their classmates and peers. Student Clubs and groups help facilitate activities on the island along with Student Life staff.
Students can RSVP to Activities@my.harrisburgu.edu

HU Concert Series – Portugal. The Man
Location: Riverfront Park
Portugal. The Man is an American rock band from Wasilla, Alaska, currently based in Portland, Oregon. The group consists of John Baldwin Gourley, Zach Carothers, Kyle O'Quin, Jason Sechrist, Eric Howk and Zoe Manville. Gourley and Carothers met and began playing music together in 2001 at Wasilla