January 23, 2023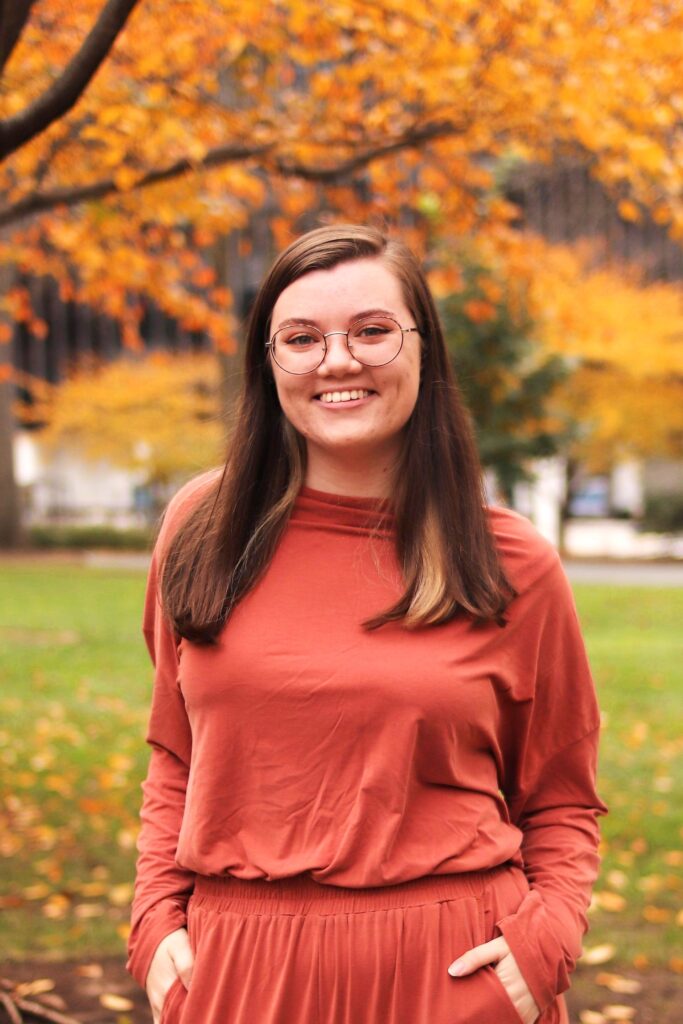 It's been a year of accomplishments, accolades, and opportunities for Harrisburg University's (HU) Lynzie Wagaman.
And Wagaman's remarkable senior year just got even better, as the Esports Management, Production, and Performance major recently landed an internship that her professors consider an incredible career opportunity that is the result of her hard work, enthusiasm, and drive.
Wagaman was one of only eight students selected to intern with Evil Geniuses (EG) and the Genius League during the spring 2023 semester. Wagaman and the seven other interns are working with members of the organization to develop professionally while also serving events with EG, a North American Esports company that fields competitive teams and produces gaming events.
"I pursued this internship because it's specifically in the area I want to have a full career in one day: partnerships. This is the first term (EG) offered a partnerships intern, and I'm honored to have been offered the role," Wagaman said. "In the internship, I hope to gain a better understanding of partnerships at the professional level from ideation to execution to closing and agreement. I also hope to build a good foundation in the professional space with EG as they are one of the oldest Esports organizations in the space."
With the drive, focus, and willingness to learn that Wagaman has displayed throughout her time at HU, her professors are confident she will go far in the ever-expanding Esports industry.
Dr. Jennifer Metz, HU Esports Management, Production, and Performance program lead, considers Wagaman a model student because she pushes herself and is willing to take risks. And despite her numerous awards and accomplishments, Wagaman is humble and wants to help others succeed.
"I would love a program full of Lynzie Wagamans.  What makes Lynzie an outstanding student and part of her tremendous success is she is constantly pushing herself to be better and to learn," Metz said. "She wants to be the best, she challenges herself, is willing to take risks and grab opportunities, but first and foremost, she wants to learn. Yet, despite her drive to be the best and prepare for the future she is always willing to help other students."
A BANNER YEAR
About those accomplishments.
Just before last summer, Wagaman was selected as just one of two women to travel to the Collegiate Esports Commissioners Cup (CECC) in Atlanta. CECC is a massive collegiate Esports tournament for teams across the country. Wagaman received a VIP experience through Skillshot Media, CSMG, 1,000 Dreams Fund, and thegameHERs. The event provided a backstage preview of a major production and tournament experience. She was able to network and received an invite to thegameHERs Pink Pixels interview show during the event.
During the CECC, Wagaman also made connections who invited her to the International Society of Technology in Education (ISTE). At ISTE, Wagaman gave a lightning talk on the main stage about her experience in collegiate esports. She also served as a panel moderator on how Esports is transforming the college experience. She also was part of a panel about Esports from kindergarten to college and beyond.
During the fall semester, Wagaman was nominated for thegameHERs Awards and was a finalist. She also began a position with 1,000 Dreams fund (1DF) as a student advisory board member, assisting the organization with its goals of helping underserved and marginalized women in STEM and gaming/ Esports meet their goals, both in and outside of academia. 1DF invited her this year to travel to Las Vegas during CES for a few events. She met with JBL Audio and Harman and tested some of their new products there. She attended the BAttle for Charity 1DF competed in and received a behind-the-scenes tour of the HyperX Arena in the Luxor.
BLAZING A TRAIL
Wagaman isn't only helping clear the way for women in Esports and the STEM fields, she will be one of the first students to graduate from HU's Esports Management, Production, and Performance program.
Wagaman entered HU in 2019 as an Interactive Media major with a goal of being involved with the University's award-winning varsity collegiate Esports team, The Harrisburg University Storm, in any way possible. After the Esports Management, Production, and Performance major was introduced at HU the following year, the decision to transition to the new program was an easy one since she wanted to focus on the industry.
Even prior to entering the Esports program, Wagaman made an impression on Interactive Media Program lead Charles Palmer.
"Lynzie has been the driving source of her own success," Palmer said. "Lynzie has always been focused on her post-college career. She has jumped at and created lots of opportunities to practice her craft and network within the community."
And after entering the Esports program, Wagaman never looked back, said HU Esports program Professor Thomas Panico. Wagaman's internship is a "victory lap" to capstone her excellent academic career at HU, Panico said.
"To say that we're proud of Lynzie is a tremendous understatement," he said. "It's incredibly validating to see her talent, passion, and hard work acknowledged by one of the most successful and prolific Esports organizations in the U.S. And while this internship is a phenomenal way for her to conclude her time here at HU. I also know that it is merely a first step in what will be a stellar career for Lynzie."
GOING FORWARD
Looking ahead, Wagaman plans to work in Esports.
While many people associate Esports industry positions with professional players or coaches, there are many more important behind-the-scene roles Wagaman said HU has prepared her for after she graduates.
Partnerships is just one of those roles that work with the business side of Esports, and she said she is grateful for the opportunities she has had in trying out the various positions at HU.
"HU has prepared me immensely well for a career in esports. I've been given ample opportunity to try out different roles in the space, both in and out of the classroom, from being a graphic design intern with the Storm to assisting with tournament administration during the Esports Field studies class," Wagaman said. "I appreciate most that HU provides students with the chance to gain real-world experience through experiential learning. Without project 1, internship(s), and project 2, I don't think I'd be in the position I am now. I'd like to thank Dr. Jennifer Metz, Professor Charles Palmer, Professor Thomas Panico, and Tom Screech for all their help and guidance over the last three to four years."
Interested in a career in Esports? Then click the following link for more information about HU's Bachelor of Science in Esports Management, Production, and Performance.
To learn about all of HU's award-winning undergraduate, graduate, and certificate STEM programs, click here.
ABOUT HARRISBURG UNIVERSITY
Accredited by the Middle States Commission on Higher Education, Harrisburg University is a private nonprofit university offering bachelor and graduate degree programs in science, technology, and math fields. For more information on the University's affordable demand-driven undergraduate and graduate programs, call 717-901-5146 or email, Connect@HarrisburgU.edu. Follow on Twitter (@HarrisburgU) and Facebook (Facebook.com/HarrisburgU).