November 8, 2019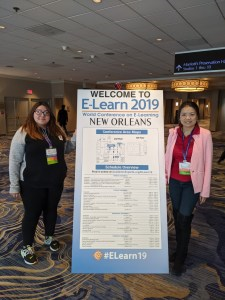 Interactive Media Major Emili Ochoa and Dr. Sa Liu gave a presentation at the E-learn 2019 world conference in New Orleans this week.
The event, which took place from Tuesday to Thursday this week, featured more than 600 participants from more than 40 countries. E-Learn is one of the leading international e-learning conferences and gathering of e-learning and distance education professionals.
During the conference, Dr. Liu served as a "Presider" for the "Virtual Reality: Offering Virtually Unlimited Application" session. Ochoa, a senior, and Dr. Liu presented Liu's research undertaken in collaboration with her colleagues from the University of Texas at Austin colleagues.
The presentation is titled, "Can Using A Multimedia-Enriched Problem-Based Learning Environment Improve At-Risk Students' Attitude?" In this study, the research team examined if the use of a multimedia-enriched problem-based earning (PBL) science environment can improve at-risk middle school students' attitudes toward science.
The results, using a mixed-methods design, showed that these students significantly improved their attitude toward science after they engaged in PBL learning. While there were no differences in the attitude toward science scores between the genders, the girls had larger gain scores from pre- to post-tests. A strong positive relationship between attitude toward science and science knowledge was also found. Such research should provide much needed insights on the effect of PBL for all students.