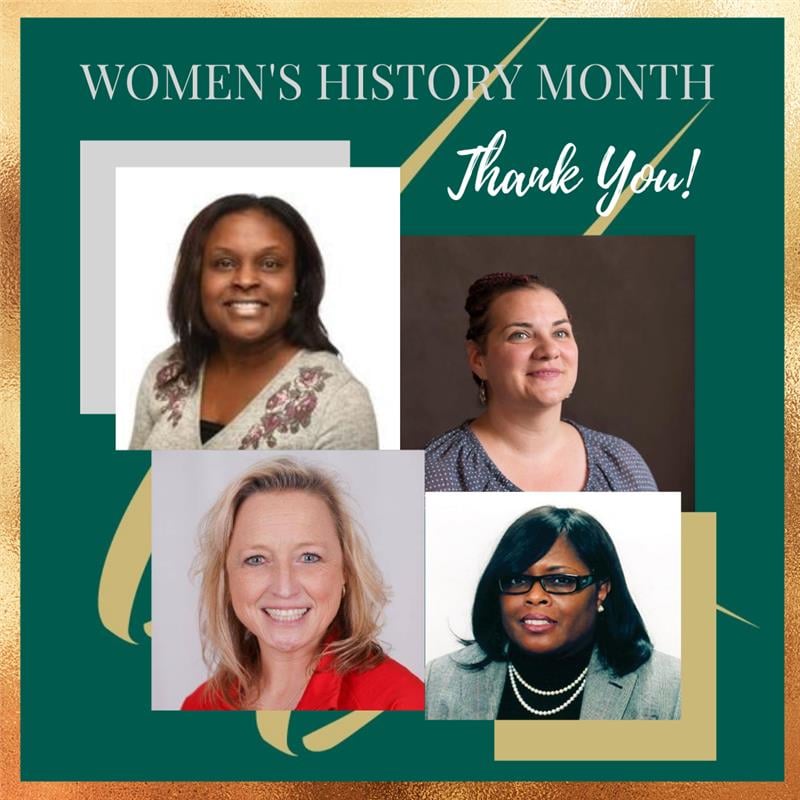 Harrisburg University's Student Government Association would like to recognize a few of our female professors that have made a huge impact in and outside of the classroom. We thank you during Women's History Month!

Dr. Karma Pace, (Upper Left corner), is an Assistant Professor of Biological Science and head of faculty at Harrisburg University's Philadelphia location. She has a Ph.D. in Neuroscience, and Master of Science Degrees (M.S.) in Biology/Secondary Ed, Bioscience, and Biology. She has always found it important to be a role model for women and minorities regarding pursuing higher education. Without Dr. Pace, HU Philadelphia would not be where it is today. Thank you, Dr. Pace, for showing women that reaching high in the science fields is possible!

Dr. Barbara Geisler, (Lower left corner), serves as an Assistant Professor in the Master of Science in Project Management program at Harrisburg University of Science and Technology. She has more than 15 years of experience in higher education and project management. She earned a Master's Degree in Adult Education and a Doctorate in Higher Education from Widener University and is a certified Project Management Professional (PMP®).

She previously worked as a project manager in the government sector overseeing contracts with the U.S. Navy, Wounded Warrior Care and Transition Policy, the Consumer Financial Protection Bureau, and other Department of Defense agencies. Dr. Geisler also has a background in instructional design and has presented at several national conferences on best practices in e-learning. Her teaching focus includes project management, International business leadership, communication, and research methodology.

Dr. Janelle Junkin, (Upper Right Corner), is a Corporate Faculty (GEND) member at Harrisburg University's Philadelphia location. She has a Ph.D. in international psychology, and creative art in therapy. She also holds a doctorate in philosophy and a master's degree in creative art in therapy. Her areas of research include child and youth identity development, the role of the arts in conflict transformation, and understanding the community arts and creative arts therapies as vehicles that provide hope and healing to people and communities in crisis. Thank you Dr. Junkin for showing women how to not be afraid to be yourself and how to respect other people with not only your word, but also with your body.

Dr. Audrey E. Brown, (Lower right corner),  PMP, MSPPM, SSGB, CSOX, CSM, is a part of the corporate faculty at HU, teaching Online & Executive Sessions. Recently she was selected to be a panelist to discuss the "Advantages of Diverse Project Teams," at the PMI-NH Chapter Online Meeting, to discuss Organizational Psychology. She has also served on the Taskforce to Re-Write coursework for the Research Methodology and Writing Course, along with contributing to the Principles and Project Management course Re-Write. Dr. Brown is a well accomplished Professor, Organizational Transformation Leader, and Keynote. On behalf of HU's SGA, we thank you for your many contributions.
ABOUT HARRISBURG UNIVERSITY
Accredited by the Middle States Commission on Higher Education, Harrisburg University is a private non-profit university offering bachelor and graduate degree programs in science, technology, and math fields to a diverse student body. For more information on the University's affordable demand-driven undergraduate and graduate programs, call 717.901.5146 or email, Connect@HarrisburgU.edu.