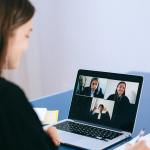 Harrisburg University students have a new, user-friendly virtual tutoring service at their disposal that provides all students with 24/7 free academic support with just the click of a button.
The service, dubbed "Brainfuse," is an academic support and tutoring platform that allows students to go to one site to schedule an appointment with a Brainfuse tutor, an HU peer tutor, drop in to the writing lab, review flashcards and test prep materials, and meet with peers in a virtual student group.
Brainfuse replaces HU's prior online tutoring platform, "Smarthinking," and students access it directly through their learning management system (LMS), Canvas.
The decision to replace Smarthinking followed a periodic review of services by the Office of Student Services, said Melissa Morgan, Director of Student Services. Academic Success Coordinator, Alisha Albidress, spearheaded the project, she said.
"The decision was made prior to moving (classes) to a virtual environment, but the timing could not have been better," Morgan said. "This system is integrated directly into the LMS. Students no longer need to create a separate user account. Additionally, students can access all academic support resources at one location. Additionally, students can schedule directly with HU tutors via Brainfuse instead of going to a different site as was the case with our prior service. The service truly meets our students where and when they need support"
Learn more about HU's tutoring service here.
About Harrisburg University
Accredited by the Middle States Commission on Higher Education, Harrisburg University is a private nonprofit university offering bachelor and graduate degree programs in science, technology, and math fields to a diverse student body. For more information on the University's affordable demand-driven undergraduate and graduate programs, call 717.901.5146 or email, Connect@HarrisburgU.edu.