June 14, 2022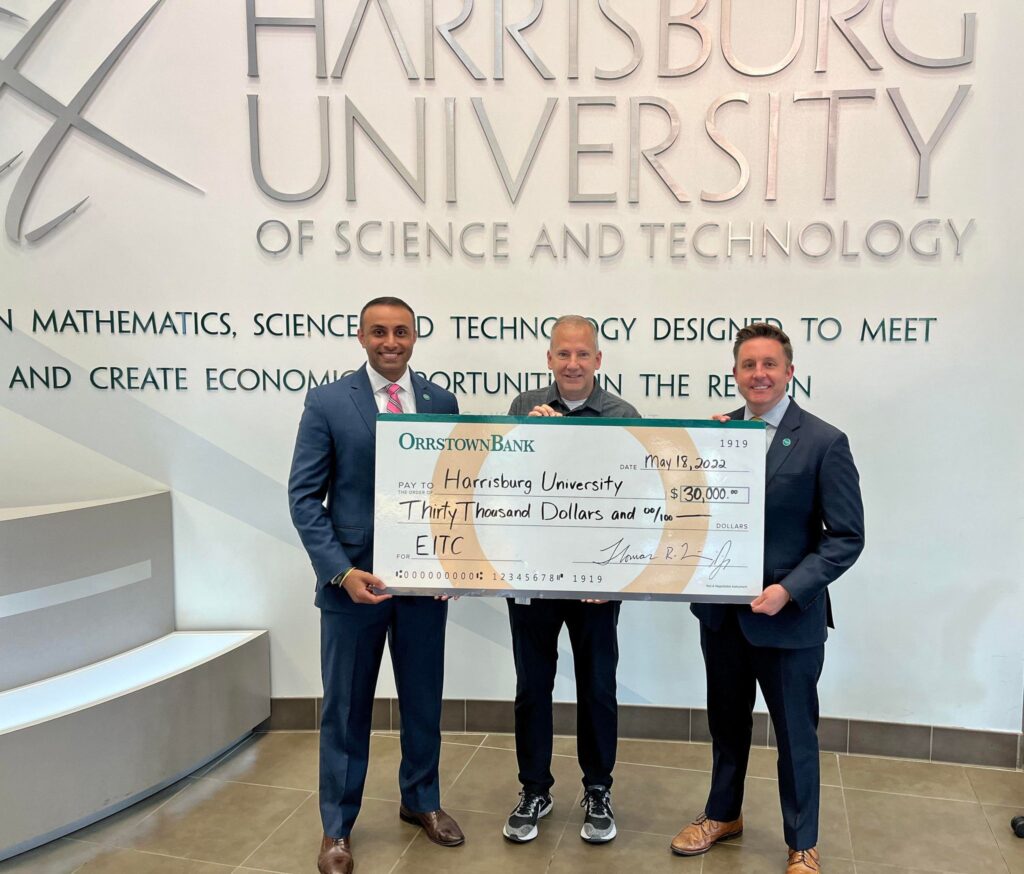 Donations businesses and individuals make to Harrisburg University of Science and Technology through the state Department of Community and Economic Development's Educational Improvement Tax Credit (EITC) program help the University extend its educational reach to students.  
Gifts like the $30,000 donation Orrstown Bank recently made to HU through the EITC program, which permits businesses and individuals a credit to lower their tax liability through donations to K-12 private schools, scholarship organizations, pre-K programs, and other educational enrichment initiatives, help fund several innovative HU programs.
Donations from individuals and companies like Orrstown Bank, Select Medical and Capital Blue Cross, support HU's College in the High School program, Digital Media Exploration, Nanobiotechnology Explorations, and Capital Area Science and Engineering Fair.
"EITC donations are a critical funding source for the University," said Duane Maun, Chief Operating Officer and Chief Financial Officer of Harrisburg University. "The funding primarily supports Our College in The High School program, which gives students an important jump-start on their college careers. And it provides businesses and individuals a conduit to support the educational initiative of their choice."
The EITC program provides qualifying companies and individuals with a 75 percent tax credit for donations to a nonprofit scholarship (SO) or educational improvement organization (EIO). That tax credit increases to 90 percent if a company commits to making the same donations for two consecutive years. Tax credits are more attractive than a standard charitable donation as tax credits are used after tax liability is established. Additionally, participating businesses and individuals support innovative educational programs as well as garner the positive public relations of their charitable work.
How does my business qualify?
Eligible businesses and individuals include those that are authorized to do business in Pennsylvania and subject to one or more of the following taxes:
Corporate Net Income Tax
Capital Stock Franchise Tax
Bank and Trust Company Shares Tax
Title Insurance Companies Shares Tax
Insurance Premiums Tax
Mutual Thrift Institution Tax
Personal Income Tax of S corporation shareholders or Partnership partners.
Pass-through entities, such as S-Corporations, Partnerships, LLs, etc., are also eligible to apply.
How does Harrisburg University use EITC?
Through innovative and community focused programs, HU uses EITC-EIO (Educational Improvement Organization) support to reach and expose local middle and high school students to STEM at an earlier age.
By focusing on classes and education in the growing and desired areas of science and technology HU gives students a head-start on their academic and career goals and open their eyes for the first time to the advantages of a STEM degree through our College in the High School Program. Other programs that EITC support include the Nanobiotechnology and Digital Media Exploration summer camps.
"We are providing access to faculty who are leading the way in higher education through their teaching and research, and to experiences that build universal skills and competencies that serve the broader purpose of preparation of life and citizenship," Maun added. "This is how an education at HU changes lives for the better through EITC support."
Businesses and individuals interested in supporting HU via the EITC program are encouraged to contact:
Daune F. Maun, CPA
Chief Operating Office and Chief Financial Officer
Office:717.901.5120
dmaun@harrisburgu.edu
Harrisburg University of Science and Technology
326 Market Street
Harrisburg, PA 17101
ABOUT HARRISBURG UNIVERSITY
Accredited by the Middle States Commission on Higher Education, Harrisburg University is a private nonprofit university offering bachelor and graduate degree programs in science, technology, and math fields. For more information on the University's affordable demand-driven undergraduate and graduate programs, call 717-901-5146 or email, Connect@HarrisburgU.edu. Follow on Twitter (@HarrisburgU) and Facebook (Facebook.com/HarrisburgU.