August 26, 2020
The experiences Harrisburg University professors bring to the classroom are vast and unique.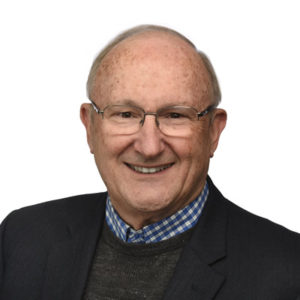 These experiences inform and influence, inspiring and showing students anything is possible.
Dr. Glenn Mitchell's decorated military and medical career enriches and helps bring to life the Healthcare Informatics courses he teaches at HU.
Mitchell, a medical doctor who heads Harrisburg University's Faculty of the Whole, served on active duty in the U.S. Army Medical Corps for 21 years. He spent nearly four years in the Middle East, living in Egypt and Jordan. His active duty tours allowed him to work in more than 60 countries. Following his military career, Mitchell was Chief Medical Officer for the tenth largest healthcare system in the US.
We recently caught up with Mitchell to learn more about him and the fascinating road that led him to Harrisburg University.
Meet Dr. Glenn Mitchell:
Q: Tell us about your educational background? Where did you complete your undergraduate and graduate work and what did you major in?
A: I have a B.S. in Physics, an M.S. in Engineering, and an M.D., all from Brown University as well as an MPH from the Uniformed Services University.
Q: What courses do you teach at HU? Where did you teach/work before arriving to HU? When did you arrive to HU?
A: I teach the Capstone courses for Healthcare Informatics. I was Chief Medical Officer for the Mercy Health System in St. Louis after a long military career. I began teaching as Corporate Faculty but have been full time for the last 4 years.
Q: Could you tell us more about your military career?
A: I served on active duty in the U.S. Army Medical Corps for 21 years. I spent nearly four years in the Middle East, living in Egypt and in Jordan, but my tours allowed me to work in over 60 countries. My two years as Command Surgeon for US Southern Command had me visit 32 of the 33 countries (all except Cuba) in this hemisphere and I oversaw US medical relief to over 250,000 people in Central America after Hurricane Mitch in 1998-99.
During my career, I commanded peacekeeping troops in the Multinational Force and Observers in the Sinai desert after Desert Storm, the Army Aeromedical Center at Fort Rucker AL, and finally, the 400-bed teaching hospital, William Beaumont Army Medical Center, at Fort Bliss TX. On September 11th, I was the Chief of Medical Operations at Medical Command Headquarters and managed the deployment of medical personnel in the early days of the War on Terror. I was the senior flight surgeon in the Army when I retired from active duty in 2005, having learned to fly both helicopters and jets.
Q: Any special awards or certifications we should know about?
A: I received the Secretary of the Army's Research and Development Award while in the military. I am a Life Fellow of the American College of Emergency Medicine and the Aerospace Medical Association (and a Past President). I also served as the Vice Chair of the American Board of Preventive Medicine. In the military I received the Defense Superior Service Medal as well as three awards of the Legion of Merit.
Q: Where are you from originally?
A: I am a Connecticut Yankee
Q: What do you love the most about teaching at HU?
A: It is the students and their interest in learning that I love at HU.
Q: What are your main areas of interest for conducting research?
A: I like to develop collaborative projects with fellow faculty members in areas such as Biotech and Analytics.
Q: What do you think makes HU stand out as a University for our students and our faculty?
A: The collaborative and collegial faculty makes it unique.
Q: Any hobbies or activities you can share?
A: I do model building, woodworking, and gardening. I used to be a pretty good sailor, too.
Q: What are your thoughts on having to switch over to an online model this fall in light of the COVID-19 pandemic in terms of delivering the same quality education to our students?
A: Our graduate courses have been online for years, so we have a great pool of experienced faculty to help the undergraduate faculty with the transition.
About Harrisburg University
Accredited by the Middle States Commission on Higher Education, Harrisburg University is a private non-profit university offering bachelor and graduate degree programs in science, technology, and math fields to a diverse student body. For more information on the University's affordable demand-driven undergraduate and graduate programs, call 717.901.5146 or email, Connect@HarrisburgU.edu