November 15, 2022
Two new board games created by Harrisburg University (HU) Interactive Media (IMED) Professor Dr. Greg Loring-Albright are about to hit the market.
Ahoy, an asymmetric light strategy game that takes place in a pirate setting, and Bloc by Bloc, a redesign/co-design of a game where players are embroiled in an urban uprising, are the second and third games published by Loring-Albright.
A long-time game enthusiast, Loring-Albright joined HU's faculty ranks this semester. He recently took time to discuss his passion for gaming, teaching, the release of his new games, and plans to involve students in games developed in-house at the University.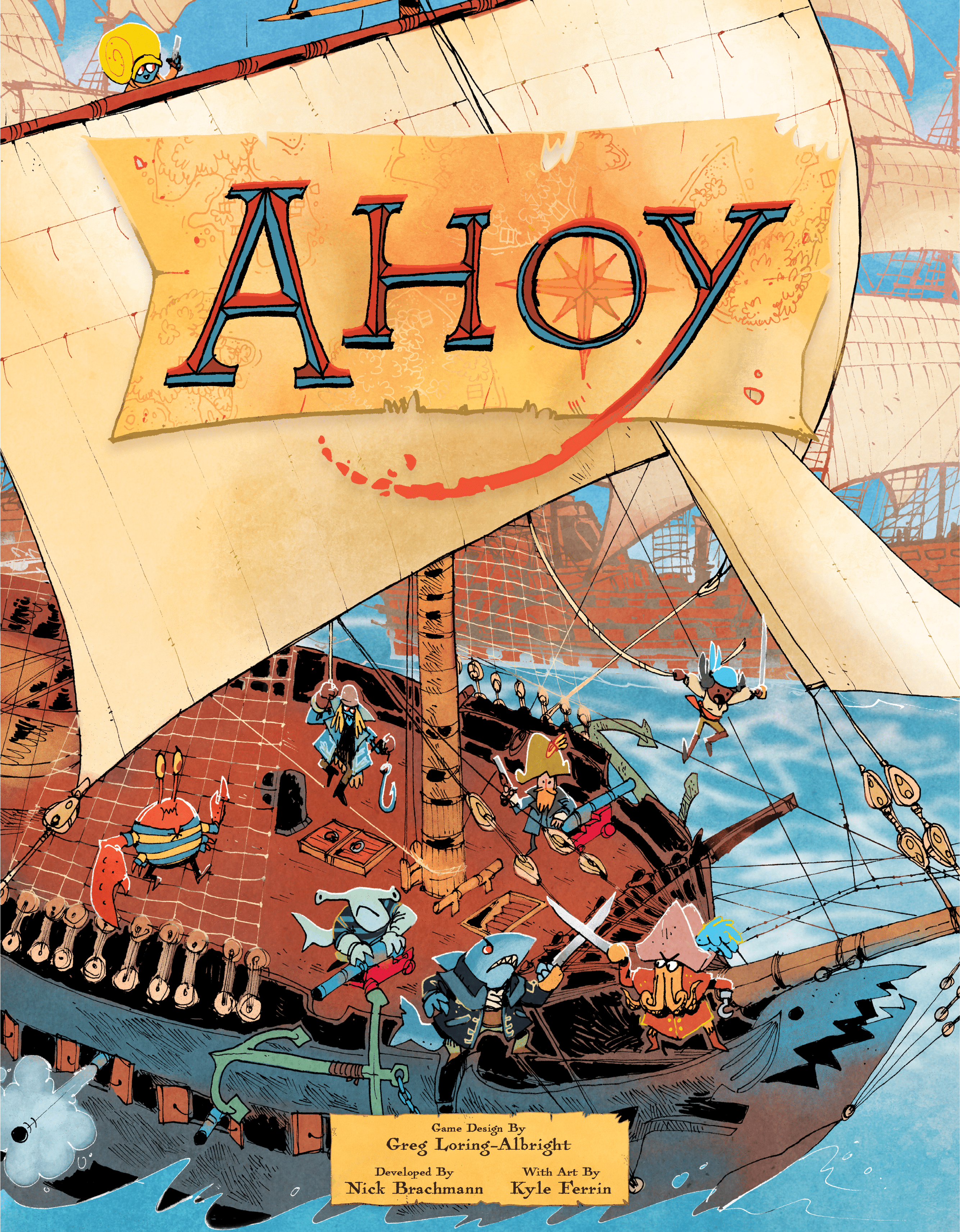 Q: Can you briefly describe Ahoy and Bloc by Bloc and how you came to create them?
A: I wanted to make an accessible adventure game where players could interact and move around a map that played in an hour or less. When I was pitching it to publishers, it was a space theme, but Leder Games, the publisher who is putting it out, wanted to shift things up, so now it's in a pirate setting with anthropomorphic animals. It stemmed from my love of board games like Betrayal at House on the Hill, where you are putting out new parts of the board as you play.
Bloc by Bloc is a both a redesign and a co-design – the game releasing now is Bloc by Bloc: Uprising, which is the third edition of Bloc by Bloc. I've been a fan of the game since its first edition, and I got to know the project's originator, T.L. Simons, when we both lived in Philadelphia. He invited me to co-design this new version of the game, which was such a huge honor. Bloc by Bloc is a game where players play out a contemporary urban uprising – think the actions that swept U.S. cities in the summer of 2020, or the ongoing struggle in Iran. It's a topic that board games don't tend to address, but it's an area that's ripe for intervention. The game is fun, but it's also making a political statement that's hard to ignore. Bloc by Bloc is also cool because it has a fully cooperative mode, so everyone can play on the same team.
Q: Where can one purchase the games?
A: These games are just entering the market now! Bloc by Bloc can be purchased from AK Press, the anarchist book publisher, here. Ahoy can still be pre-ordered directly from the publisher (Leder Games) at this link, but it should be arriving at local game stores any day now.
Q: How many games have you designed/created? Are they all board games?
A: I have published three games so far (these two and a minor early project called Leviathan (Leviathan — Greg Loring-Albright (gloringalbright.com) I work primarily in the board game space. I have also made a number of custom live games that played in parks, museums, restaurants, etc., and I'm beginning to dabble in role-playing games as well. I hope to spend some time this summer learning some digital tools so that I can work in that space as well.
Q: What do you love about creating games?
A: I love how games give players the power to mess around in systems. Our world is so imbricated in any number of systems, but they're hard to see. Giving players the chance to pull levers and push buttons in a risk-free zone is such a cool thing to do.
Q: Do you plan to work with students on creating games?
A: It's my first term here, so I haven't had a chance to dig in deep with students, but I'm so excited about the energy in the IMED program, and I hope to collaborate with students soon. I'm in touch with a number students who want to pilot a Tabletop Game Designers' club, and I'm excited to see what they come up with.
Q: Anything you would like to add?
A: I'll be at PAX Unplugged pitching a few new projects, and playtesting my latest announced project, the official board game adaptation of Howard Zinn's Peoples' History of the United States (co-designed with Jason Perez). That game is being published by TESA Collective, and I'm so honored to get to work on a game that adapts one of the first critical history texts that a lot of us in the U.S. get exposed to.
ABOUT HARRISBURG UNIVERSITY
Accredited by the Middle States Commission on Higher Education, Harrisburg University is a private nonprofit university offering bachelor and graduate degree programs in science, technology, and math fields. For more information on the University's affordable demand-driven undergraduate and graduate programs, call 717-901-5146 or email, Connect@HarrisburgU.edu. Follow on Twitter (@HarrisburgU) and Facebook (Facebook.com/HarrisburgU).