July 28, 2022
Happy National Intern Day!
Harrisburg University (HU) did not want to miss the chance to celebrate our interns! While enrolled at Harrisburg University, students in every major are required to complete an internship through their experiential learning requirements.
This summer, a variety of HU students are completing their internship and research for undergraduate experiences (REU). It is always great to catch up with our students to hear how their experiences are going. We checked in with some of our Integrative Science and Biotechnology students conducting a Research Experience for Undergraduate Students (REU).
Junior Rebecca Conner is currently conducting her REU with Mississippi State University. Connor, an Integrative Science major, has had the opportunity to conduct research, collaborate, and network with students and faculty.
She shared, "The other people in the group are so amazing and fun, and the faculty I'm working with has a lot of trust in me."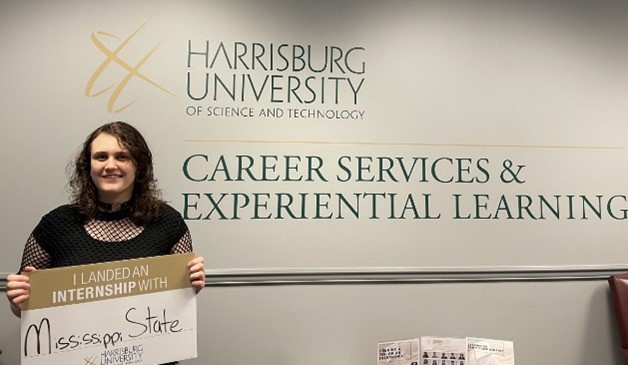 Junior Trystan Keehner and Senior Reed Franz have honed their skills in computer science. Keehner, a Computer and Information Sciences major is interning with energy provider Constellation. Reed is an intern with Carlisle Construction Materials. Both said their internships helped them apply what they learned in the classroom at HU.
Keehner noted, "My internship has provided me with several opportunities to learn and hone my skills." Franz shared. "I've been able to learn a lot about the IT career field overall, as well as begin to finally apply some of the theoretical aspects I learned from classes into real life uses."
Junior Umangkumar Patel, continues to use his networking skills that helped him obtain his internship this summer with Amazon Web Services (AWS).
Patel, a Computer and Information Sciences major, shared, "Being able to network with other professionals and learning is the best!"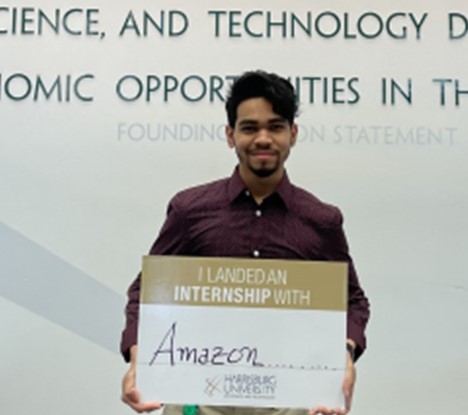 We are especially excited to celebrate this year as two of our students are in the running to be on TheWayUp Top 100 Intern List.
Marylin Spencer, a recent graduate of the Management, Entrepreneurship and Business Administration program, made the list with other interns across the country. Throughout her time at HU, Spencer has participated in internship oppournities and has expanded her knowledge extensively through all of her experiences.
Joining Spencer among the nominees is Umang Patel. Patel's internship this summer is the second internship he obtained.
Both students will be evaluated by a 30 percent public vote and 70 percent of the criteria will be judged by an expert panel reviewing impact, work ethic, project contributions, professional development, and future career plans.
If you would like to aid our nominated HU students through the public vote evaluation, be sure to vote for Spencer and Umang! Voting is limited to one vote per person per day.
Winners will be announced in August.
On behalf of Harrisburg University, we celebrate our interns and express our thanks and appreciation to our partnering organizations!
Happy National Intern Day!