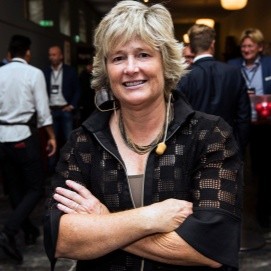 Lisa Schlosser
Corporate Faculty (Cybersecurity Operations and Management)
Ms. Lisa Schlosser currently serves: on the Board of Directors for VetSports; the Board of Advisors for Cylance; as Corporate Faculty with Harrisburg University; on the CSFi Advisory Board; and as an instructor at Georgetown University. She was recently elected as a Commissioner, Rehoboth Beach Delaware, effective September 15, 2017. She is also an animal welfare advocate, and volunteers at local dog shelters.
She most recently served full-time as the Federal Deputy Chief Information Officer/Deputy Associate Administrator, Executive Office of the President. In this role, Lisa helped to oversee policy and budgeting related to the government's $86B information technology portfolio. She was also asked to serve a six-month temporary detail with the Office of Personnel Management as a Senior Advisor/Chief Information Officer following a major cyber security breach.
She previously served as the Principal Deputy Associate Administrator, Office of External Affairs and Environmental Education, and the Director, Office of Information Collection, Office of Environmental Information, for the Environmental Protection Agency.
Prior to EPA, Lisa was a Chief Information Officer (CIO), and the Associate Chief Information Officer/Chief Information Security Officer, at two Federal Government agencies.
Before joining the Federal Government, Lisa worked in the private sector as a Senior Manager for Ernst & Young LLP, helping to establish the international Cyber Security Practice; and as a Vice-President for Global Integrity.
Lisa also served in the US Army, and retired as a Lieutenant Colonel from the US Army Reserves.
Lisa holds a B.A. degree in Political Science from Indiana University of Pennsylvania, and an M.S. degree in Administration from Central Michigan University.