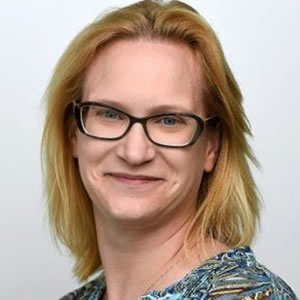 Catherine Santai, Ph.D.
Associate Professor of Chemistry and Biochemistry, Integrative Science Program Lead
Dr. Santai is a graduate of Georgia Institute of Technology where she earned her Ph.D. in Chemistry with an emphasis in Biochemistry for her research into novel nucleic acid structures she created and termed mixed-stranded DNA. She investigated the ability of these unique DNA structures to condense into nano-sized particles and their suitableness for gene delivery using Atomic Force Microscopy and Transmission Electron Microscopy techniques. Dr. Santai has been teaching in academia for 10 years. She is passionate about education, research, and increasing representation of women and minorities in STEM fields. She is the current Chair of National Chemistry Week and executive member of the SE PA Section of the American Chemical Society. Her current research interests include determining how the method of plant oil extraction impacts antibacterial effectiveness.
Dr. Santai has been a teacher at the undergraduate level for over 12 years. She loves teaching and working with students. She is passionate about increasing the numbers of women and minorities who study and work in the chemical sciences, and at Harrisburg University she gets those opportunities every day.
Teaching and Research Interests:
Dr. Santai's courses are traditional face-to-face courses in which she encourages student participation and places high demands on her students. Dr. Santai challenges her students and provides support to help students appreciate and succeed in chemistry. Dr. Santai is proficient in the use of technology in the classroom. During her lectures, she uses traditional on the board problem solving, hands-on wet laboratory experiences, as well as modern instruments to teach students the skills they can take into the workforce and beyond.
In addition to teaching, Dr. Santai's enjoys working with undergraduate students in the research laboratory. Her current research, through a collaboration with the PA Department of Environmental Protection and Schuylkill County Conservation District, is focused on water quality and remediation of acid mine drainage waters in the Swatara watershed of PA.
Education
Ph.D. in Chemistry with a concentration in Biochemistry, Georgia Institute of Technology, Atlanta, Georgia, USA.
M.Sc. in Chemistry with a concentration in Biochemistry, Georgetown University, Washington, D.C. USA.
B.A. in Chemistry, minor — Biology and Physics, College of Notre Dame of Maryland, Baltimore, Maryland, USA.