January 13, 2021
As Harrisburg University continues to grow, so does the number of expert educators the University recruits to deliver an incomparable STEM education that includes hands-on experience, research, and personal attention that gives our graduates the edge needed to succeed.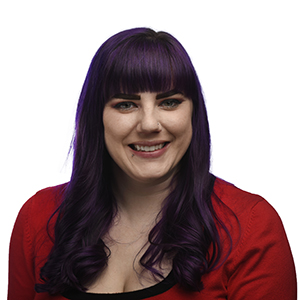 Since its founding in 2001, Harrisburg University's faculty has grown from a handful of professors to more than 200 full-time faculty members. HU professors are the brightest in their fields. They boast impressive research portfolios and bring real-world experience from the field that prepares students for their biggest homework assignment yet: The workforce.
Case in point: Cognitive Analytics Professor, Dr. Erin Buchanan.
Buchanan, who has won several teaching, research and advising awards, arrived at Harrisburg University in 2019. She hails from the South and earned her undergraduate and graduate degree at Texas A&M University and Texas Tech University.
We recently caught up with Buchanan to learn more about her background, interests, and the road that led her to Harrisburg University.
Meet Dr. Erin Buchanan:
Q: Tell us about your educational background? Where did you earn your undergraduate degree and any other education, and what did you major in?
A: Texas A&M University, B.S., Psychology; Texas Tech University, M.A., Experimental Psychology; Texas Tech University, Ph.D., Experimental Psychology.
Q: What courses do you teach at HU? Where did you teach/work before arriving to HU?
A: At HU: ANLY 500, ANLY 520, ANLY 540.
Before HU: Undergraduate: Cognitive Psychology, Introduction to Psychology, Statistics for Social Sciences, Advanced Statistics, Research Methods, Psycholinguistics
Graduate: Regression, Multivariate Statistics, Advanced Statistics, Graduate Statistics, Structural Equation Modeling, and Nonparametric Statistics.
Q: Can you briefly tell us about Cognitive Analytics? What does it encompass?
A: My background is in computational linguistics which is the intersection of linguistics, computer science, and cognitive psychology.
Q: What do you love the most about teaching at HU?
A: Our program (Analytics) is a diverse group of individuals and backgrounds, which allows me to interact with others who share my same passion for statistics and number crunching across a broad field of topics. Similarly, it is exciting to engage with students who will use these skills sets directly in their job roles.
Q: What are your main areas of interest for conducting research?
A: My primary research interests are broadly connected by a meta-science focus on statistics and computational linguistics. In my statistics research, I have published numerous articles on the development and assessment of valid questionnaires, and the application of multigroup analyses to understand the diversity of participant responses.
These studies have been conducted in partnership with clinical and experimental psychologists and have incorporated both classical and modern test theory to improve survey design and implementation.
I am also interested in the implications of statistical analysis to published research, comparing methods of statistical evaluation, and shifting standards in the field for what constitutes acceptable levels of evidence. My computational linguistics research has emphasized inquiry into the storage of language that relies on actuarial analyses of complex semantic networks. My key focus in this area has been understanding how we measure and implement our research designs, and the practical implications of developing standardized stimuli on the research field.
I have developed large databases, conducted research understanding the publication and use of these stimuli, and am currently working on projects focused on power and replication in linguistic studies. Therefore, I would summarize my larger research goals as understanding the tools we use in research, exploring their validity and applications, and discussing the broader implication these facets have on replication and credibility of research.
Q: Any special awards or certifications we should know about?
A: I have won several teaching, research, and advising awards. The most recent award was a commendation from the Society for the Improvement of Psychological Science.
(I am actively involved in the Open Science Knowledge Base, and I run the Statistics of DOOM channel).
Q: What do you think makes HU stand out as a University for our students and our faculty?
A: HU has a diverse faculty and student population, which is admirable for a university that focuses on STEM education. The focus on experiential learning in the classroom provides students the skill sets they need to succeed after graduation. The ability to blend the important background knowledge about concepts with the key technical skills required is a strong benefit to our students.
Q: Any hobbies or activities you can share?
A: My hobbies include going to concerts, hiking and visiting our National Parks, and playing video games when it's too cold to do either of those.
Q: What are your thoughts on having to switch over to an online model this fall in light of the COVID-19 pandemic in terms of delivering the same quality education to our students?
A: The Analytics Program is predominantly online, so we continue to tackle this question regardless of other course decisions. Quality, engaging education is hard, difficult work in all forms of delivery, but it is especially important to consider the easy distractions that students face in online learning environments. In additional to the traditional course material, our courses also feature coding requirements, which many students find daunting. I am currently building flipped classrooms that allow students to use class time as practice, which is a crucial component of learning technical skill sets.
About Harrisburg University
Accredited by the Middle States Commission on Higher Education, Harrisburg University is a private nonprofit university offering bachelor and graduate degree programs in science, technology, and math fields. For more information on the University's affordable demand-driven undergraduate and graduate programs, call 717-901-5146 or email, Connect@HarrisburgU.edu. Follow on Twitter (@HarrisburgU) and Facebook (Facebook.com/HarrisburgU).