November 9, 2022
Harrisburg University (HU) congratulates the winning teams of the second annual hackathon presented by HU's Center for Innovation and Entrepreneurship (CIE) and AAA Central Penn.
Eight teams competed in the "Hacking 4 Design" competition which took place at Harrisburg University on Nov. 1. A team consisting of HU students Maxwell Minton, Isaiah Bretz, George Clements, Aaron Dadoun, Aiden Masemore, and Samuell Dinner won first place in the sprint-like event that saw innovators, domain experts, technologists, and more collaborate to design a 21st-century digital customer experience for AAA Central Penn members. The team was awarded $10,000 for developing a point-based system that rewards people with AAA cards depending on membership and use of their cards.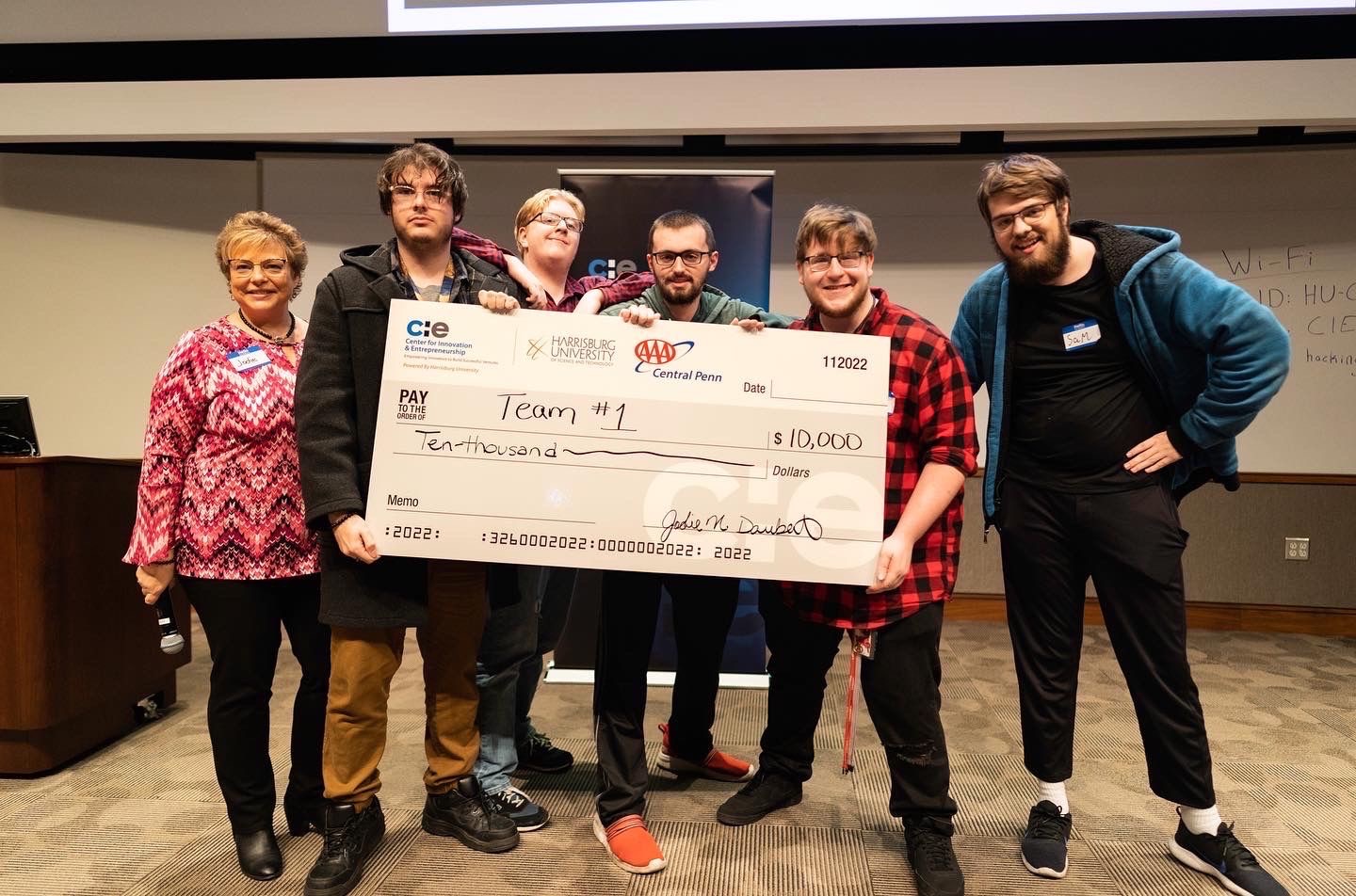 "Thanks to AAA Central Penn, Modus Create, and the teams that participated for showing the immense value in bringing together people across disciplines and seniority levels," said CIE Executive Director Jay Jayamohan. "We at CIE keep shaking up the old formats for ideation with rapid collaboration in real-time and hope these gatherings have an impact ranging far beyond the one day."
A team consisting of military members Major Christopher Kenney, 1st Sgt. Mathew Jaroslawski, and Staff Sgts. Edel Castillo and Jadon Plant took home a $7,000 second-place prize for enhancing and improving the AAA Central Penn member experience for future users by assuring the fastest responding road-side assistance, appealing to the younger generation, and supporting the military population in Central Pennsylvania.
There was a tie for third place this year.
Shaniqua Williams and Mackenzie Anderson won $4,000 for their project calls for the modernization of outdated office space to align with AAA Central Penn's 2022-2024 strategic plan of fostering a collaborative space, reaching diverse audiences through more community and cultural engagement while enhancing the full employment life cycle in a paperless work environment.
Leland Nelson and Sharia Brown also won third place for their project which calls for the introduction of new, tech savvy, diverse demographic reaching solutions that will ultimately create access to new members.
ABOUT THE CIE
The Center for Innovation & Entrepreneurship (CIE) works to empower innovators to build successful ventures, including Harrisburg University students and faculty, as well as entrepreneurs in the community. In addition, CIE offers opportunities for partners to invest in important scientific discoveries, technological innovations, and academic research.