September 17, 2021
Thursday, September 23rd from 11am to 3pm in the HU Student Union is this year's Involvement Fair!
This fair, held in the beginning of each year, brings together student clubs and interest groups along with a selection of community partners and highlights their offerings and services to our students, especially new and first-year students to HU. This is a great recruitment tool for student groups and an awesome way for students to learn how to get involved on campus. We want to encourage all students to come and participate both in-person and virtually. For faculty and staff, if you are looking for more ways to get involved with students, some clubs could use advisors or supporters.
We would love for faculty to remind students to attend! Students can stop by for just 15 minutes and make some great connections. We have taken COVID precautions into account by moving the fair away from the HU lobby, where it normally is held, to reduce foot traffic and provided a virtual option for participating groups. Please encourage your students to attend and feel free to stop by yourself. Next week, we will have a SharePoint page set up for students to visit. This event is in Harrisburg. Our Philly Fair will take place in October.
This event is part of Tech-N-Town Week – https://www.harrisburgu.edu/tech-n-town-week/
We're excited for the students, please reach out to us for any questions – Activities@my.harrisburgu.edu.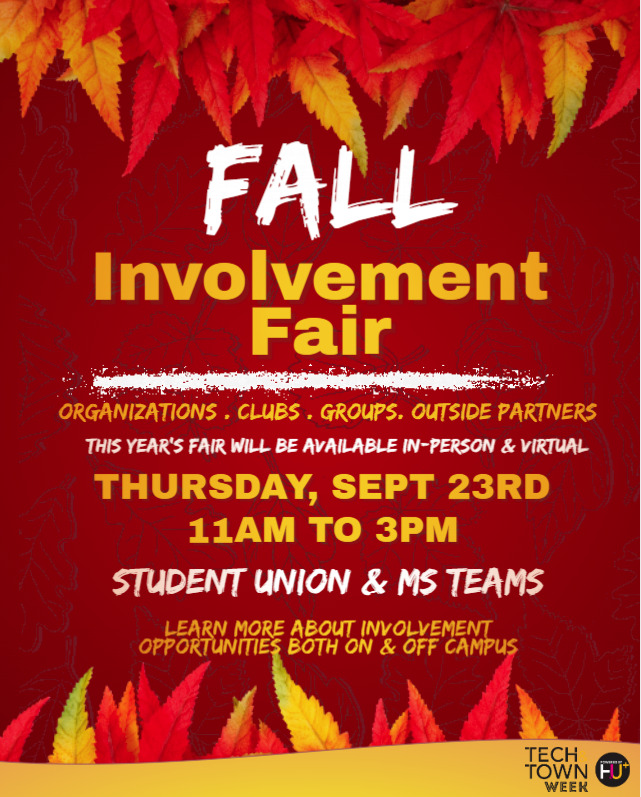 ABOUT HARRISBURG UNIVERSITY
Accredited by the Middle States Commission on Higher Education, Harrisburg University is a private nonprofit university offering bachelor and graduate degree programs in science, technology, and math fields. For more information on the University's affordable demand-driven undergraduate and graduate programs, call 717-901-5146 or email, Connect@HarrisburgU.edu. Follow on Twitter (@HarrisburgU) and Facebook (Facebook.com/HarrisburgU).