February 22, 2023
In honor of Black History Month, the Center for Innovation & Entrepreneurship (CIE) at Harrisburg University of Science and Technology will award the CIE launch U RISE Award to four individuals whose work has championed underserved demographics and entrepreneurship during the CIE Blend networking event Wednesday evening.
The 2023 launchU RISE (Resilience, Innovation, Strategy, & Entrepreneurship) Award recipients are:
Richard Utley – President/CEO, Utley & Associates – Leader, Motivational Speaker, and Entrepreneur.
"I ran track while attending college in Pittsburgh. My father's advice to me was simple, 'Make sure you graduate from high school in order to provide for yourself.' College officials doubted my skills as Chairman of a nascent campus organization called the Black Action Society, and countless politicos and bureaucrats underestimated my survival skills. Most of my life consisted of clearing the bar of low expectations others set for me. With hard work and determination, I have managed to become one of the highest-ranking and most well-known members of the Pennsylvania State Government. Not bad for a skinny kid from the Homewood section of Pittsburgh Pennsylvania. Perseverance, formidable people skills and innate intelligence triggered my rise. I leveraged those strengths and became a successful Political Operative, Motivational Speaker, Entrepreneur, Author, Recording Artist and Entertainment Promoter."
Corey Dupree – Lead Consultant, Corey Dupree Consulting LLC
Originally from Cambridge, Massachusetts, Corey Dupree came to Central Pennsylvania by way of attending the Milton Hershey School from 2005-2009. After attending MHS, he furthered his education at Penn State University and graduated with a B.A. in Humanities with a focus in Communications. He currently serves as the lead consultant for Corey Dupree Management and Consulting LLC., where he assists start-ups and organizations with their strategic development and fundraising needs. He also serves as a board member for Penn State Health's Community Advisory Board. A proud father of two, Corey's passion to serve others, specifically the youth within underserved communities, stems from his personal upbringing as well as the impact from volunteering with grassroot organizations.
Dennise Hill, Director of Housing and Economic Development, City of Harrisburg
The Department of Building and Housing Development's (DBHD) mission is to assist in the development of viable communities while providing opportunities for its citizens to have access to fair, safe, livable. and affordable housing opportunities. The Department of Economic Development provides a wide array of community and economic opportunities that impact and help to build the City's economy. In addition to her professional role, Dennise serves on a number of boards such as: Habitat for Humanity Greater Harrisburg, The Partnership for Hope, Capitol Area Coalition on Homelessness, Central PA MLK Day of Service, and Harrisburg Regional Chamber & CREDC. Dennise is a graduate of Steelton-Highspire High School and Shippensburg University. She is a published author, poet, and spoken word artist.
Yolanda Edrington, experienced, nationally recognized, leader
With an extensive record of providing leadership guidance, community engagement, and navigating different systems to afford clients assistance from a strengths-based perspective, Yolanda wears many hats. She serves as the Chief Operating Officer for the National Sexual Violence Resource Center, the Managing Director of RALIANCE (a national partnership), and the Founder of YE Consulting where they provide management and communication skillset training. Yolanda also serves as a Match Group Advisory Council member and BGCA National Child & Club Safety Task Force, advocating for safer platforms and communities. Professionally and personally she works for social change. Yolanda has spent many years volunteering for community-based programs in Central PA. She's currently serving on the boards of Alder Health Services and the Historic Harrisburg Association. Along with having 20-plus years of management experience, Yolanda holds a B.S. in Applied Psychology from Albright College.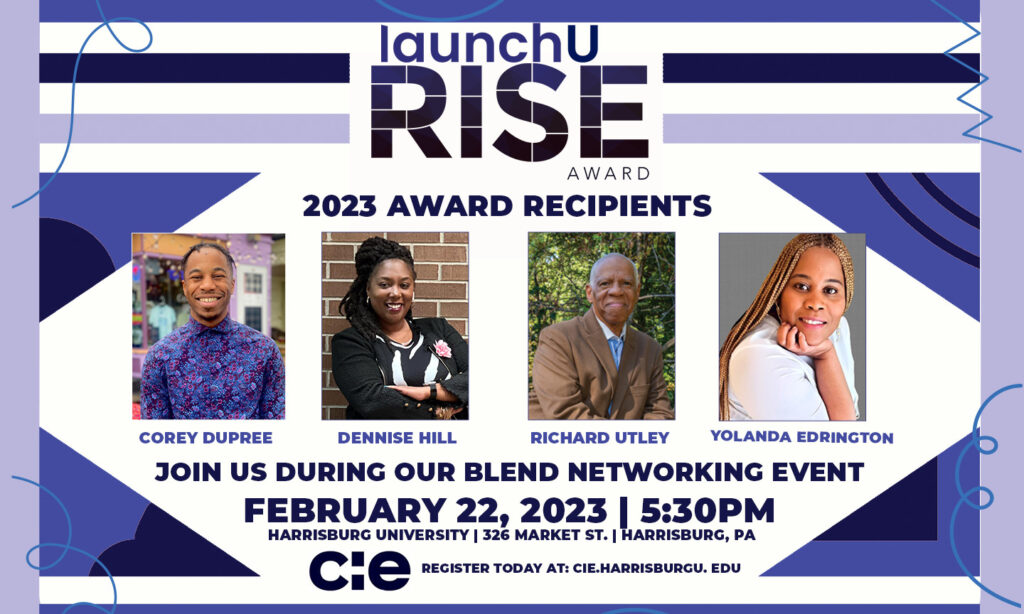 ABOUT CIE
Center for Innovation & Entrepreneurship's (CIE) mission is to empower innovators to build successful ventures by providing the infrastructure and resources, with a special focus on serving the underrepresented minority. Unlike other programs focusing on pie-in-the sky pitches delivered over an accelerator program, we provide the support and infrastructure to build his/her idea in a thoughtful way with the guidance of the right kind of experienced entrepreneurs.