January 7, 2021
Join Harrisburg University's Center for Innovation and Entrepreneurship for its next "Conversations in Innovation" set to take place from 12-1 p.m. on Wednesday, Jan. 20.
The virtual discussion, "Healing from the Trauma of COVID-19," will feature David Saunders, Director of the state Department of Health's Office of Health Equity; Geoffrey Roche, Executive Director of Strategic Healthcare Initiatives and Partnerships at Harrisburg University; and Daniel Jurman, Executive Director of Gov. Tom Wolf's Office of Advocacy & Reform.
For more information and to register to attend this free event, follow this link.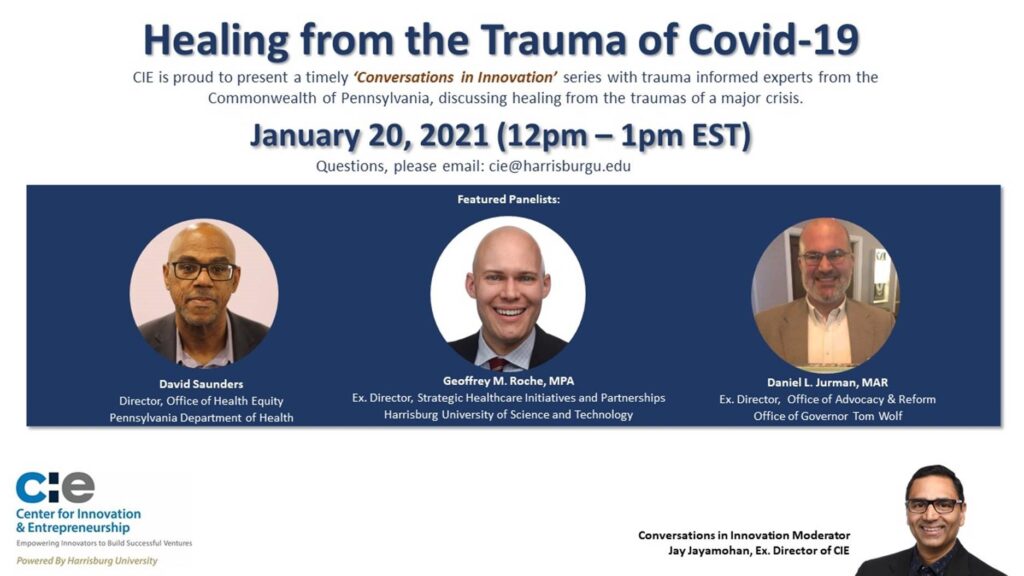 ABOUT HARRISBURG UNIVERSITY
Accredited by the Middle States Commission on Higher Education, Harrisburg University is a private nonprofit university offering bachelor and graduate degree programs in science, technology, and math fields to a diverse student body. For more information on the University's affordable demand-driven undergraduate and graduate programs, call 717.901.5146 or email, Connect@HarrisburgU.edu.