January 9, 2023
Harrisburg University of Science and Technology has the perfect opportunity for entrepreneurial students looking to launch a great business idea.
Harrisburg University's Center for Innovation & Entrepreneurship (CIE) is accepting applications from high school and undergraduate students across the globe to participate in the fourth installment of its launchU Start-up Challenge Competition + Showcase set for May 18, 2023. Applications to participate in this virtual event will be accepted through March 8.
What began as an experiment involving a few HU students has grown into a full-fledged international "Shark Tank"-style competition sponsored by The Hershey Company.
Entrants will learn the basics of entrepreneurship, refine their ideas, and pitch them at the capstone competition showcase. Three winning teams will be selected by a formal judging committee and awarded cash prizes during the event. The grand prize winner will have the opportunity to incubate their business idea via Harrisburg University's Innovation Lab.
This is the perfect opportunity for students to present their startup ideas!
For more information and to apply, please visit the following link.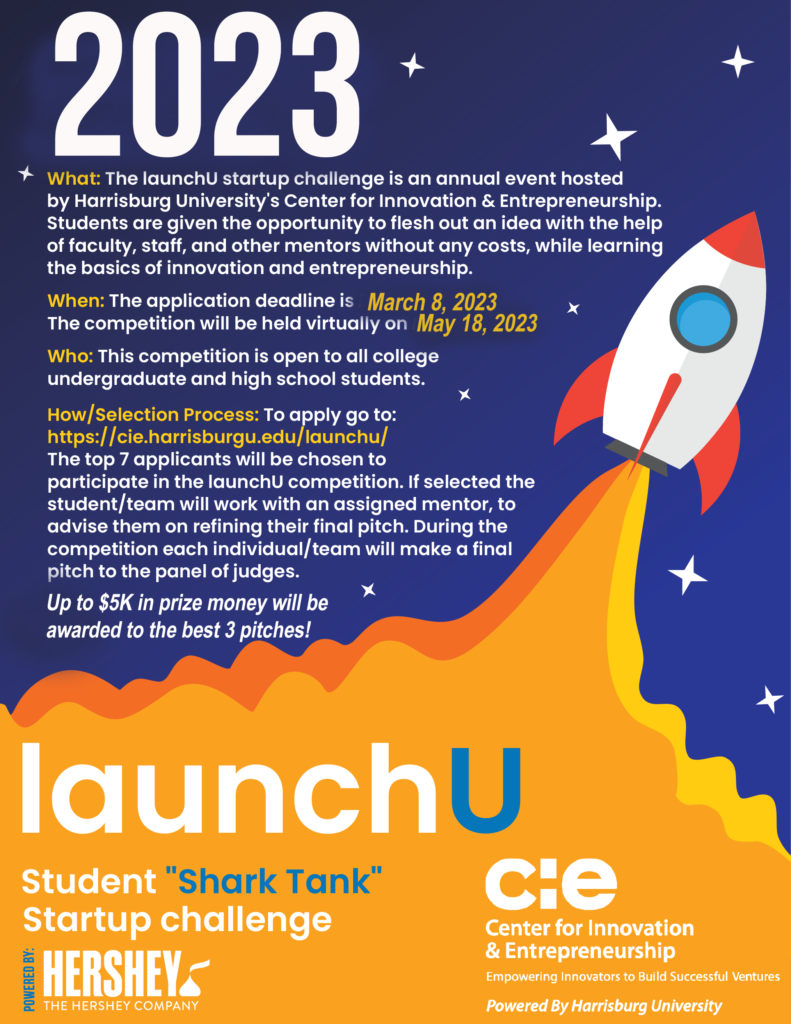 ABOUT THE CIE
The Center for Innovation & Entrepreneurship (CIE) works to empower innovators to build successful ventures, including Harrisburg University students and faculty, as well as entrepreneurs in the community. In addition, CIE offers opportunities for partners to invest in important scientific discoveries, technological innovations, and academic research.