September 10, 2020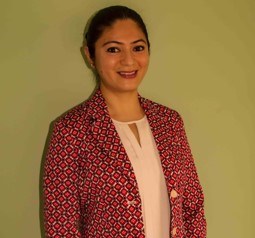 At Harrisburg University, we ignite passion, curiosity and talent.
When students pick HU, they choose diverse perspectives, creativity, and hands-on learning tucked into an unmatched science, technology, engineering, and math (STEM) curriculum that leads to rewarding careers.
In addition to small class sizes and accessible, caring professors, Asha Bhardwaj found a curriculum aligned with industry needs at HU. Bhardwaj, a Learning and Instructional Designer with Infoprof Learning Inc., is on track to earn a M.S. Learning Technologies and Media Systems next year.
"As an Indian military veteran, my transition to the corporate world in the U.S. is, in significant part, attributable to Harrisburg University. The choice of programs is very much attuned to industry needs. That, in itself, has been a great boon in making my academic journey easier. I could pick up the program, knowing well that it is an industry fit. Second, I am thankful to the ever-responsive professors who go out of their way to help clear any doubts I may have before or during courses. I appreciate their accessibility over phone or email, even during weekends. It gives me confidence knowing that they are vested in the students' careers. Thirdly, the classes are small in size and help me receive individual attention, especially during the technical part of the learning. I am sure that with these factors, HU is going up in the ranking faster than other universities, and I am glad I made this school my academic choice."
To find out why Harrisburg University is the perfect fit for your, visit www.HarrisburgU.edu
About Harrisburg University
Accredited by the Middle States Commission on Higher Education, Harrisburg University is a private non-profit university offering bachelor and graduate degree programs in science, technology, and math fields to a diverse student body. For more information on the University's affordable demand-driven undergraduate and graduate programs, call 717.901.5146 or email, Connect@HarrisburgU.edu