July 29, 2021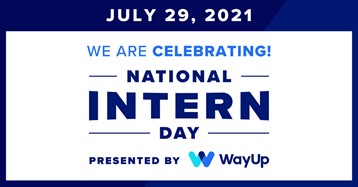 Participating internships greatly impact our undergraduate student experience, and we cannot miss the chance to celebrate National Intern Day! While enrolled at HU, students in every major are required to complete an internship through their experiential learning requirements.
This Summer, a variety of HU students have been able to conduct internships virtually, in-person, and in a hybrid format. We checked in with some of our students to see what their favorite part of their internship experience has been so far this Summer.
Isaac Heil, a Junior in the Advanced Manufacturing program shared, "My favorite part of the internship has been how much hands-on experience I have been able to have with a variety of topics. Being homeschooled, I did not have access to these kinds of resources, so being able to learn in an academic setting where I can go at my own pace has been an encouraging learning experience."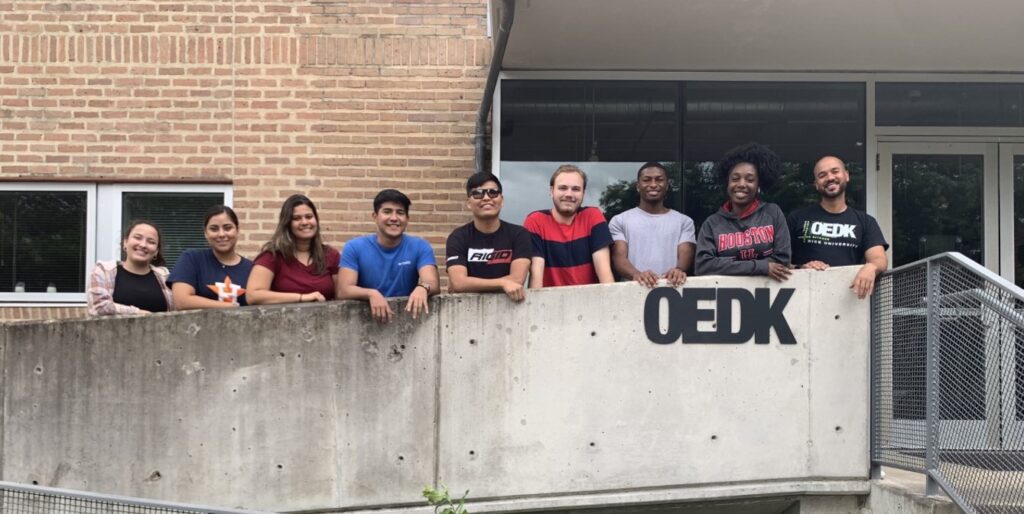 Pictured above at the far right is Heil. Juan Ebron also a junior in Advanced Manufacturing program, is pictured third from right. Heil and Ebron are participating in an Internship experience with Rice University's Engineering Research Center for Nanotechnology-Enabled Water Treatment (NEWT) is the first national center to develop next-generation water treatment systems enabled by nanotechnology. The aim is to enable access to suitable water almost anywhere in the world by developing high
performance, easy-to-deploy systems for drinking water and industrial wastewater treatment systems enabled by nanotechnology.
Hunter Rogers, pictured second from left below, is a Junior Advanced Manufacturing major who is conducting an internship via a partnership with Phoenix Contact and HU Aquaponics shared, "The opportunity to be both in person and online has allowed me to learn at my own pace and when on a good stride speed up the rate in which I am completing my experience."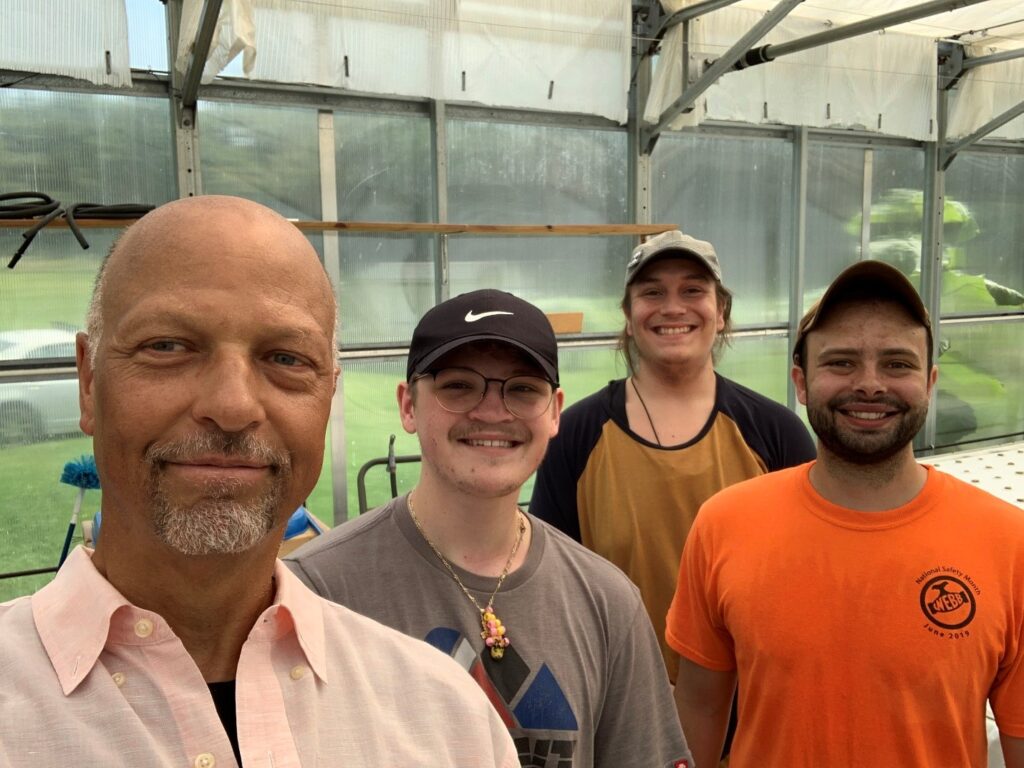 Alicia Browne, a Junior in the Biotechnology program is conducting an internship with Eurofins Lancaster Labs. She shared her favorite part of her internship has been "Interacting with my coworkers and learning tips and tricks from them."
Dale Belles, a senior in the Integrative Sciences program, was able to secure a prestigious Research Experience for Undergraduate Students (REU) with the Mississippi State University. This experience was a major step for Dale towards his professional career. Belles shared, "It was very important for me to have taken this, REUs should be strongly encouraged for students."
Felipe Reyes, a Senior in the Interactive Media Program, is currently conducting his internship with Smashing Graphics Studios. Though Felipe's experience is a virtual internship, he has not missed out on interacting with his colleagues. Felipe shared, "The experience of working with different people from different disciplines."
Monue Flomo, pictured third from right below, is a Senior in the Integrative Sciences program. Monue is conducting an internship with Ears in Balance Inc. Monue has especially been grateful for the team he is working with at Ears in Balance as they are aiding in his career development while also making a personal impact. The people at where I intern took me as a family member. They had a birthday celebration party for me."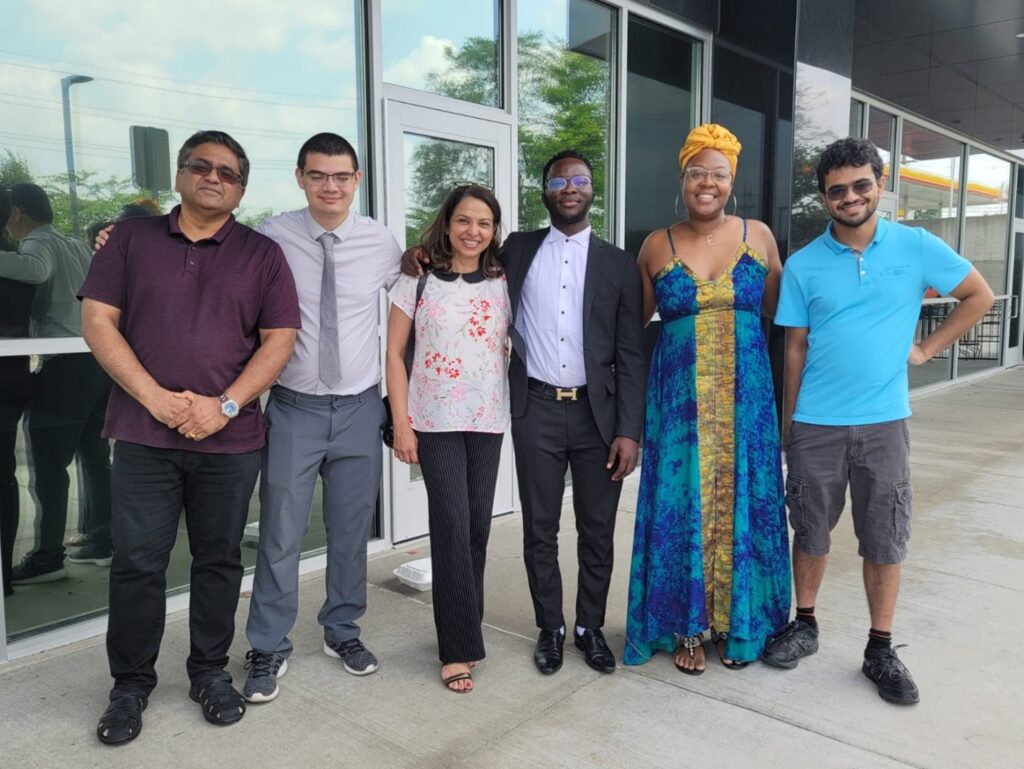 On behalf of Harrisburg University, we celebrate our interns and express our utmost gratitude and appreciation to our partnering organizations!
Happy National Intern Day!
ABOUT HARRISBURG UNIVERSITY
Accredited by the Middle States Commission on Higher Education, Harrisburg University is a private nonprofit university offering bachelor and graduate degree programs in science, technology, and math fields. For more information on the University's affordable demand-driven undergraduate and graduate programs, call 717-901-5146 or email, Connect@HarrisburgU.edu. Follow on Twitter (@HarrisburgU) and Facebook (Facebook.com/HarrisburgU).