May 17, 2022
Harrisburg University Presents will welcome rock-and-soul heavyweights Nathaniel Rateliff & The Night Sweats with special guest HISS Golden Messenger to Harrisburg's Riverfront Park on Sept. 20, 2022.
Nathaniel Rateliff & The Night Sweats have become one of the most recognizable new forces in contemporary rock'n'roll in less than five years. Since 2015, Rateliff has led his denim-clad, horn-flanked Night Sweats, supplying the zeal of a whiskey chugging Pentecostal preacher to songs about this world's shared woes.
They've had hits, sure, but their combustible mix of soul and rock quickly cemented them as the rare generational band who balanced ecstatic live shows with engrossing and rich records. HISS Golden Messenger will open the show with its blend of indie folk, blues, alternative country, country rock, and jazz.
"We are excited to add a high-energy band like Nathaniel Rateliff & The Night Sweats to the HU Presents Summer Concert Series lineup," said University President Dr. Eric Darr. "We look forward to welcoming the community to Riverfront Park this summer for great music in a beautiful, outdoor setting."
The Nathaniel Rateliff & The Night Sweats concert is the seventh HU Presents Summer Concert Series show announced this year at Riverfront Park in partnership with Dauphin County, the City of Harrisburg, Clair Global, PNC Bank, and Troegs Independent Brewing.
HU Presents Summer Concert Series shows at Riverfront Park include Death Cab for Cutie, with special guest, Illuminati Hotties on July 14. Legendary hip-hop collective, The Roots, will perform on July 15, and Icelandic rock band KALEO, with Special Guest White Reaper, will play Aug. 17. Pop-rock band, LANY, with special guest, Surfaces, will perform at Riverfront Park Aug. 19. American indie rockers Lord Huron, with special guest First Aid Kit, will play Riverfront Park Aug. 20. And HU Presents the National at Riverfront Park on Sept. 24.
Other upcoming concerts at Harrisburg University Presents at XL Live include:
The Struts – May 28
here and there festival – August 12
James Hunter Six – October 1
Barns Courtney – October 14
Judah & The Lion – October 15
Nathaniel Rateliff & The Night Sweats' Tickets will be available to the public at 10 a.m. Friday, May 20 at this Link. For tickets and information about Harrisburg University Presents' entire lineup of shows, visit www.concertseries.harrisburgu.edu.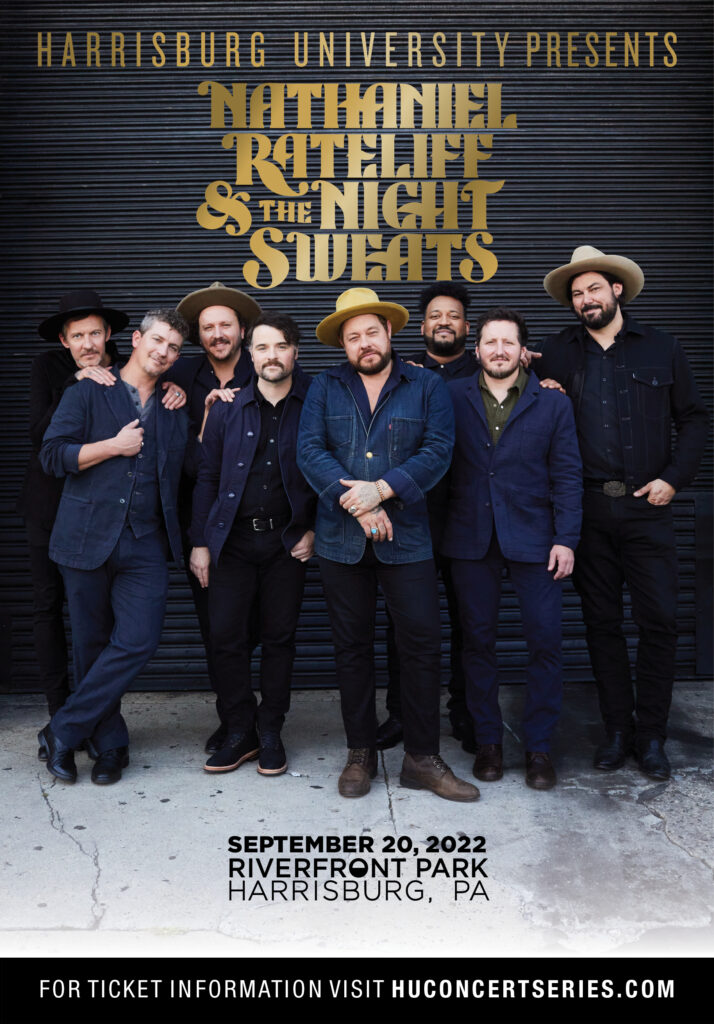 ABOUT HARRISBURG UNIVERSITY OF SCIENCE AND TECHNOLOGY
Accredited by the Middle States Commission on Higher Education, Harrisburg University is a private non-profit university offering bachelor and graduate degree programs in science, technology, and math fields. For more information on the University's affordable demand-driven undergraduate and graduate programs, call 717.901.5146 or email, Connect@HarrisburgU.edu.