April 19, 2022
Harrisburg University Presents is pleased to welcome KALEO with special guest White Reaper to Harrisburg's Riverfront Park on Friday Aug. 17, 2022.
As the driving creative force behind KALEO, one of Iceland's most successful musical exports, JJ Julius Son generally looks forward – to the next recording session, the next gig, the next source of inspiration. So, when asked to look back, he is truly moved by how successful and epic the journey has already been, just one album deep into his career on the international stage.
In just three short years, KALEO has scored a trifecta of global hits, including the churning Number 1 alternative track, "Way Down we Go;" received a Grammy nomination for the hard-hitting strutter, "No Good;" and watched its first album for Atlantic Records, 2016's A/B, go gold.
The band has toured the world, from sweaty nightclubs filled with diehard fans to mammoth crowds at Coachella, Bonnaroo, and Lollapalooza. Every bit of that lived experience is packed into his next big step: KALEO's latest album, "Surface Sounds."
KALEO's Harrisburg show is the fifth HU Presents Summer Concert Series show announced this year at Riverfront Park in partnership with the City of Harrisburg, Dauphin County, Clair Global, PNC Bank, and Troegs Independent Brewing. Death Cab for Cutie, with special guest Illuminati Hottie, will perform in Riverfront Park on July 14. Pop-rock band LANY, with special guest, Surfaces, will perform at Riverfront Park Aug. 19. American indie rockers Lord Huron, with special guest First Aid Kit, will play Riverfront Park Aug. 20. And HU Presents the National at Riverfront Park on Sept. 24.
KALEO tickets go on sale to the public at 10 a.m. on April 22. For tickets, click here. For tickets and information about Harrisburg University Presents entire lineup of shows, visit www.concertseries.harrisburgu.edu.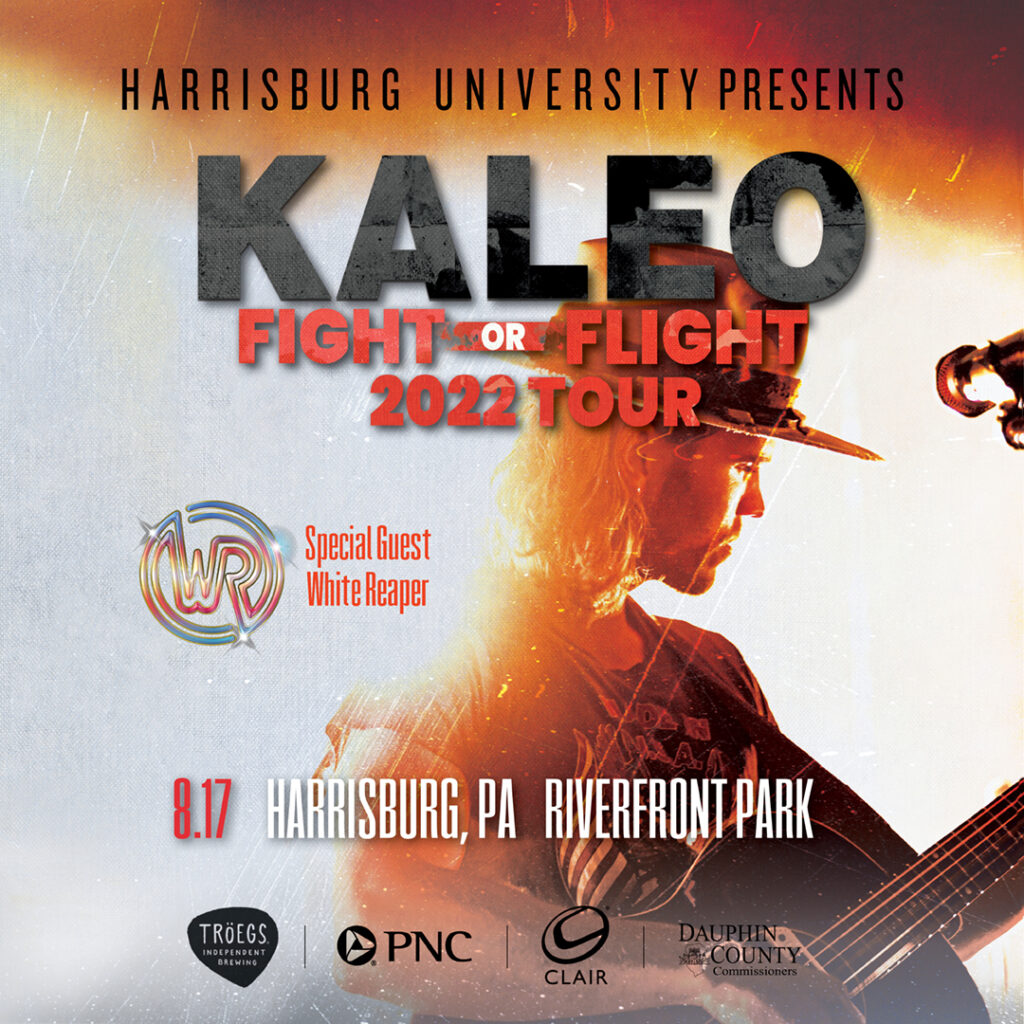 ABOUT HARRISBURG UNIVERSITY OF SCIENCE AND TECHNOLOGY
Accredited by the Middle States Commission on Higher Education, Harrisburg University is a private non-profit university offering bachelor and graduate degree programs in science, technology, and math fields. For more information on the University's affordable demand-driven undergraduate and graduate programs, call 717.901.5146 or email, Connect@HarrisburgU.edu.