November 5, 2018
Harrisburg University of Science and Technology has announced the recipients of this year's Presidential Research Grants – funding awarded annually to professors who partner with and engage students in ground-breaking research projects.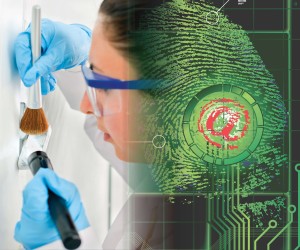 After receiving a record number of proposals, Harrisburg University President Dr. Eric Darr awarded the grants to help continue or launch new projects during HU's fiscal-year 2018-2019.
The funded projects/recipients are as follows:
Millennials and the Visual Qualified Self: Investigating mobile photography memory management and social media practices of youth; Dr. Tamara Peyton, Dr. Sa Liu, and Professor Brian Grey
Discovering Best Practices for Teaching Professional Empathy: Towards the co-design of tools to scaffold the development of empathy as a professional capacity; Dr. Tamara Peyton and Dr. Nancy Mimm
Chemical Equilibrium Simulation game; Dr. Richard Jackson, Dr. Andrea Nagy, and Dr. Melanie Stegman
The Impact of Learner Characteristics on Problem Solving Using a Mobile Serious Game; Dr. Sa Liu, and Professor Mina Gabriel
Student Life Mobile Application for Harrisburg University; Professor Philip Grim, and Dr. Melanie Stegman
PDMS Sponge Microfluidics for Continuous 3D Cell Culture and Drug Screening; Dr. Leena V. Pattarkine, and Shailaja Agarwal
It's (far from) Alive! Understanding soft-body exceptional preservation through comparative micro-analysis; Dr. Michael Meyer, and Dr. Christine Proctor
The Virtual Field Experience: Understanding best practices in creating immersive proxy field environments; Dr. Michael Meyer, Dr. Christine Proctor and Professor Albert Sarvis
Responsive Autonomous Cube Processing Based on Cloud Bursting and Elastic Computing; Dr. Majid Shalaan, and Professor Ron Jones
Serial Killer Profiling Using Artificial Intelligence and Data Mining: A cooperative project between Forensic Sciences and Computer Sciences; Dr. Robert Furey, and Dr. Majid Shalaan
A Comparison of Media to Determine Optimal Growth in Aquaponics; Dr. Rachel Fogle, and Dr. Andrea Nagy
SRBC Monitoring Dashboard System; Dr. Siamak Aram, Dr. Michael Meyer, Dr. Kevin Purcell and John Quigley
A Deep Learning Approach to Find the Correlation Between Addiction Behavior in Gaming and Brain Activation Using Functional Near-Infrared Spectroscopy; Dr. Siamak Aram, Dr. Roozbeh Sadeghian, Dr. Saeed Esmaili-Sardari
Center for Applied Regenerative Medicine (Sustaining Grant); Dr. Glenn Mitchell, and Dr. Leena V. Pattarkine
Using Drone Mounted Thermal Imagery to Improve Reptile Detection; Professor Albert Sarvis, and Dr. Christine Proctor
Digital Humanities (Sustaining Grant); Professor Albert Sarvis
Completion of Mapping the Composition and Characteristics of Acid Mine Drainage in Swatara Creek Watershed (Sustaining Grant); Professor Albert Sarvis, Dr. Christine Proctor, and Dr. Catherine Santai
ScrumSim Simulation (Phase Two); Dr. Tom Sheives, Dr. Joe Malak, and Dr. Majid Shalaan
Since founded in 2001, Harrisburg University has emerged as a hub of education, training, industry partnerships and research. And with resources like the Presidential Research Grant program, the University engages students in innovative projects aimed at changing the world, Dr. Darr said.
"This year, a record number of Presidential Research Grant proposals were received. Thank you for a tremendous demonstration of thought, effort and interdisciplinary collaboration," Dr. Darr said to each professor/staff member who applied for a grant. "I warmly congratulate all of the grant winners! Again, thank you for your creativity, collaboration and energy! I am excited about the possibilities as we continue to build HU."
About Harrisburg University
Accredited by the Middle States Commission on Higher Education, Harrisburg University is a private non-profit university offering bachelor and graduate degree programs in science, technology, and math fields to a diverse student body. For more information on the University's affordable demand-driven undergraduate and graduate programs, call 717.901.5146 or email, Connect@HarrisburgU.edu.