March 27, 2023
Harrisburg, Pa. – The grand opening of a state-of-the-art Esports facility near Harrisburg University of Science and Technology's new Education Center will take place at 10:30 a.m. on March 27, 2023.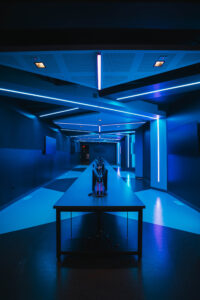 The LAN Center, located at 19 S. Third St., will serve as a hub for gaming in the area, according to Harrisburg-based professional Esports team, the Soniqs, which will open and manage the center. A Local Area Network (LAN) Gaming Center is a facility where players use a computer connected over a LAN to other computers, primarily for competing in multiplayer games. 
"We wanted to build the LAN Center in the middle of downtown Harrisburg so we could give back to the gaming community," said Soniqs CEO Darren Moore. "We really wanted to give people a space where they could come, play, and learn."
The LAN Center will be available to Harrisburg University's varsity Esports team, The Storm, and clubs and groups for private events. LAN Center patrons will be able to participate in tournaments, engage in casual play with peers, and watch games as spectators. The center will include gaming set-ups, spectator seating for Esports events, and more. Esports professionals will also teach workshops and other educational events in the roughly 2,000-square-foot space.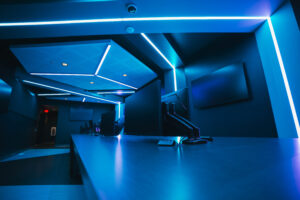 Harrisburg-based JEM Group LLC constructed the new, innovative, space. Soniqs sponsors, Intel, Viewsonic, and Zipchair have all contributed to the launch of the LAN Center. The center features Intel NUC PC's built with 12th Gen Intel(RR) Core(TM) i9-12900 CPU's, 16GB of RAM, and RTX 3060 TI's. These PCs will provide the local community with some of the best hardware Intel has to offer, providing a high-end gaming experience and learning tool. 
Accompanying these PCs are ViewSonic's 27-inch 1080p 240Hz IPS gaming monitor. These displays are built to deliver high-end gaming with high refresh rates which are necessary for esport competitions.
At each setup are Glide Gaming Chairs from Zipchair, which boast ergonomic support, height controls, adjustable armrests and tilt tension regulation. These gaming chairs allow for casual gamers maximum comfort and esport competitors' ultimate control over their posture.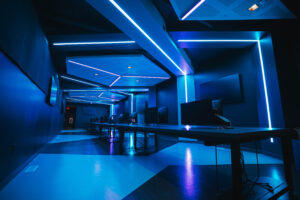 "The HU Esports club will attend the event and will have a chance to use and test the machines to help celebrate," said Trey Lykins, community manager for the Soniqs. "The CEO and staff of The Soniqs will also be present for the event, so attendees will have an opportunity to ask their burning Esports questions directly to the pros."
For more information about the Soniqs and the LAN Center, visit the following link. 
ABOUT HARRISBURG UNIVERSITY
Accredited by the Middle States Commission on Higher Education, Harrisburg University is a private nonprofit university offering bachelor and graduate degree programs in science, technology, and math fields. For more information on the University's affordable demand-driven undergraduate and graduate programs, call 717-901-5146 or email, Connect@HarrisburgU.edu. Follow on Twitter (@HarrisburgU) and Facebook (Facebook.com/HarrisburgU).