October 27, 2022
Harrisburg University is kicking off Spirit Week @HU October 31- November 4. During the weeklong event, we invite you to join in by dressing up in the "theme of the day".  Student Government votes on the daily themes each year for students. This year is very special, we partnered with our colleagues over in HR to come up with themes that staff, and faculty can appreciate. The first day is the day of the Halloween-themed 'Potluck n' Pumpkins' event, we're looking forward to the outfits. Those that participate, please send in your outfit pictures to studentlife@harrisburgu.edu. We'll create an album of pictures to share with the HU community between all the staff/faculty and student submissions.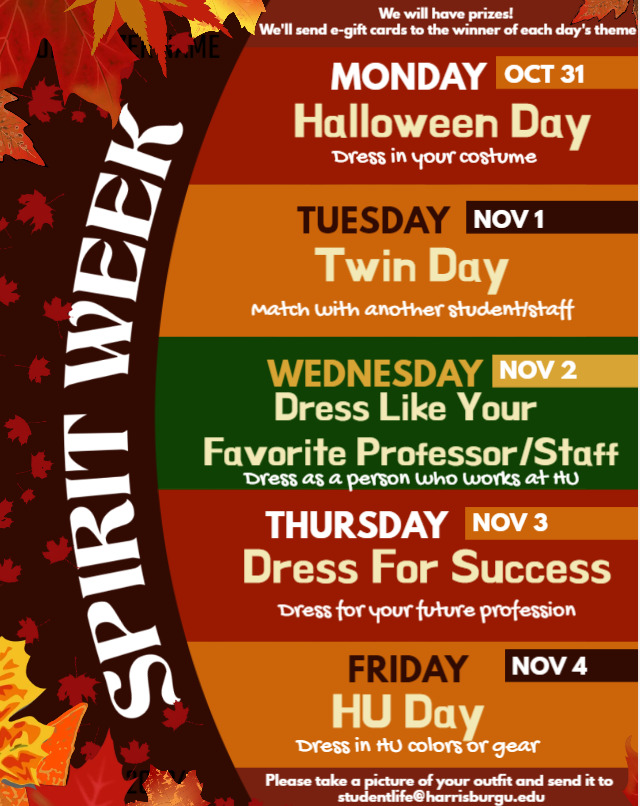 ABOUT HARRISBURG UNIVERSITY
Accredited by the Middle States Commission on Higher Education, Harrisburg University is a private nonprofit university offering bachelor and graduate degree programs in science, technology, and math fields. For more information on the University's affordable demand-driven undergraduate and graduate programs, call 717-901-5146 or email, Connect@HarrisburgU.edu. Follow on Twitter (@HarrisburgU) and Facebook (Facebook.com/HarrisburgU).