February 11, 2022
Harrisburg University's Center for Innovation and Entrepreneurship invites the community to join its next Conversations in Innovation session featuring two experts who will discuss new developments, practical applications, and highlight what's next in emerging technologies from 12-1 p.m. on Feb. 16.
Panelists for the What's Next in Emerging Technologies virtual session will include Chris Pearson, Senior Manager, Community Development at Elastic, and Sanjay Chopra, Co-founder and CEO, Cognistx. Jay Jayamohan, CIE Director, will moderate the session.
Pearson has been involved in the tech startup space for the last eight years. Beginning in business development with 500 Startups in San Francisco, Pearson helped formulate strategic partnerships with corporate innovation teams that centered around the connection of startups to specific innovation needs. He then transitioned to the other side, taking on partnership management for global startup objectives at Softlayer, which would transition to the same position at IBM before growing to oversee all operations and go-to-market strategy for their global startup program, Startup with IBM. Moving to Elastic in 2020, he is now tasked with building a new startup program that focuses on investing in select early-stage startups through Elastic technology and helping support those companies throughout their initial growth phase.
Chopra is the Co-founder & CEO of Cognistx, an applied AI company with several high-impact AI products for supply chain, logistics, pharma and manufacturing. Chopra is also the co-founder & CEO of Intellions, a pricing software company that has licensed its IP to Google. He has more than 30 years of expertise in AI, technology, e-commerce, strategy, and business development. Chopra serves on the board of the Cleveland Federal Reserve Bank. He is the recipient of E&Y Entrepreneur of the Year 2000 award and was the founding chair of Pittsburgh Social Venture Partners and a founding member of the TiE Pittsburgh.
Chopra was the director of digital commerce at Giant Eagle and helped launch Curbside, eAdvantage, and the mobile apps for Get-Go and Giant Eagle. He worked for IBM for seven years, helping grow, manage and build a global team of over 450 professionals. He is an adjunct professor of e-commerce at Carnegie Mellon University, where he received an MBA. Chopra earned a Master of Science degree in computer science from Virginia Tech and a bachelor's degree in computer science from Maulana Azad National Institute of Technology in India.
There is no charge for the event put registration is required. To join the discussion, register at this link.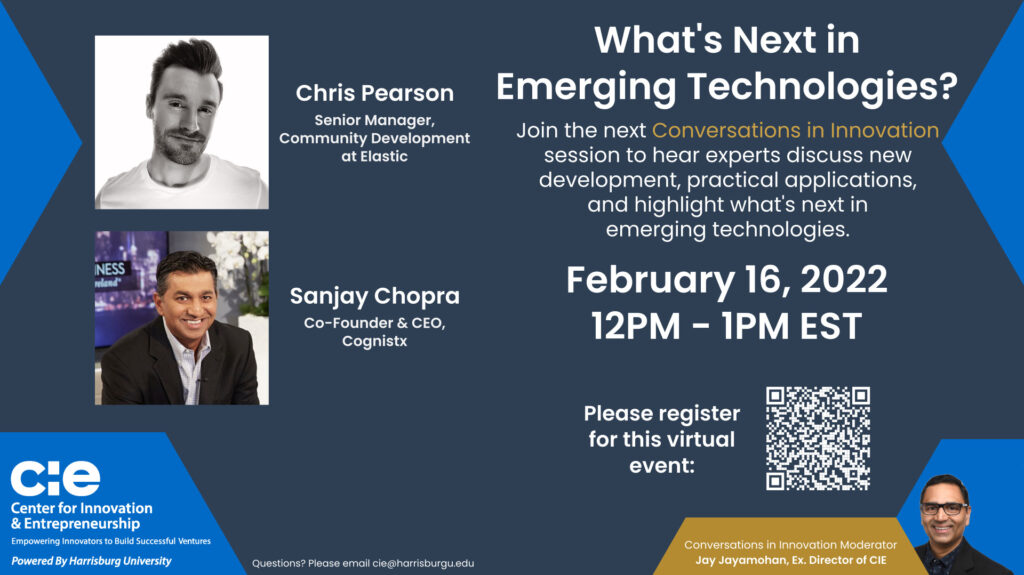 ABOUT HARRISBURG UNIVERSITY
Accredited by the Middle States Commission on Higher Education, Harrisburg University is a private non-profit university offering bachelor and graduate degree programs in science, technology, and math fields. For more information on the University's affordable demand-driven undergraduate and graduate programs, call 717.901.5146 or email, Connect@HarrisburgU.edu.