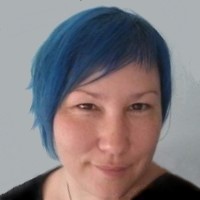 Kelly Boudreau, Ph.D.
Associate Professor in Interactive Media Theory & Design
Hailing from Montreal, Canada, Dr. Boudreau began teaching in the United Kingdom in one of the first academic programs that focused on both Game Studies and Game Design which has shaped her perspective on the importance of theory supported game design. With a background in sociology, film studies, and games studies, Dr. Boudreau has published on a range of subjects around digital games, players, game culture, and games user research.
Dr. Boudreau's current research spans several areas including exploring the changing nature of mediated forms of sociality in digital gameplay, the concept of player/avatar hybridity developed through the networked process of play, as well as addressing different issues around toxic and problematic behavior in video game play and culture.
Dr. Boudreau has been invited to teach and speak in several European countries before landing at HU which has strongly influenced her desire to share these experiences with her students and embed global perspectives in both her teaching and research.
Education
Ph.D. in Etudes Cinématographiques (Film Studies, Concentration Games Studies), Université de Montréal, Montréal, Québec, Canada.
M.A. in Sociology, Concordia University, Montréal, Québec, Canada.
B.A. in Sociology Honours, Concordia University, Montréal, Québec, Canada.