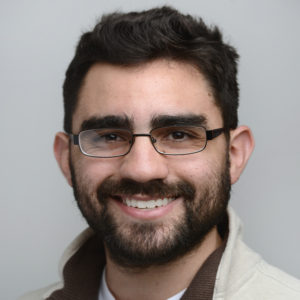 Anthony Ortega
Production Coordinator (CAELT) & Corporate Faculty (IMED)
Anthony Ortega is a Production Coordinator for the Center for Advanced Entertainment & Learning Technologies. Additionally, he teaches within the Interactive Media Undergraduate Program. Anthony also manages and teaches summer camps about game development, oversees internal and external projects that can deal with anything from website development to research projects about tabletop games to building and installing technologies in remote locations.
Anthony enjoys bringing together people with diverse skillsets and complementary passions to tackle interesting problems. And in his spare time, he likes to design digital and tabletop games.
Teaching and Research Interests:
What Anthony Ortega enjoys most about teaching is trying to break concepts into digestible chunks for students to understand as well as introducing students to platforms of the game development field that they may not have much experience with. It's quite a challenge and he always learns more about what his teachings when developing course materials and engaging with students. Students constantly inspire him with their unique approaches to solving problems and insights that are overlooked, so teaching keeps his interest in the game development industry fresh while continuously evolving.
Anthony Ortega has an appreciation for all forms of interactive technology and how each platform is best suited for creating compelling narratives and player experiences. The biggest struggle for students is understanding how to approach developing games, so his main goal in teaching is helping students break down large tasks into smaller, more manageable parts, with a focus on iterative prototyping and playtesting. He has a deep interest in the rich world of tabletop games, as they eliminate the barriers of digital technology and allow designers to focus purely on the player experience. It is here where Anthony Ortega states his own curiosities by designing unique tabletop experiences.
Courses Taught at HU:
Game Design
Education
Masters in Entertainment Technology (MET), Entertainment Technology Center, Carnegie Mellon University, Adelaide, Australia & Pittsburgh, Pennsylvania.
BFA in Illustration, Pennsylvania College of Art & Design, Lancaster, Pennsylvania, USA.