Date/Time
Date: 9/28/2022
Time: 10:00 am - 3:00 pm
The Center for Innovation & Entrepreneurship (CIE) at Harrisburg University of Science and Technology has partnered with the STEM-UP Network and Women in Science Demonstrating Outstanding Merits (WISDOM) to host the Women in Science Conference at Harrisburg University from 10 a.m. – 3 p.m. on Sept. 28.
The Women in Science Conference is an interactive workshop created especially for women, women in science, and women in science looking to enter the business world.
CIE Director Jay Jayamohan, will present, "Designing Your Startup," from 10:30 a.m. – 12 p.m., exploring the considerations founders should make and the actions they should take early in the creation of a new venture.
The second session, "Engineering Your Success Story," 1-3 p.m., will feature speakers Dr. Dirk Frese, Executive Director, Wisdom; Dr. Roxy Swails, Standards Development Leader, Lutron Electronics; and Andrea Clugh, The Engineer Whisperer, who will explore the science behind navigating your personal career pathway, including interview strategies, shared life experiences and unlocking the power of the mind to create new possibilities. You are the engineer of your success story.
Lunch will be provided to attendees and high school and college students receive free registration. To register and for more information, please visit the following link.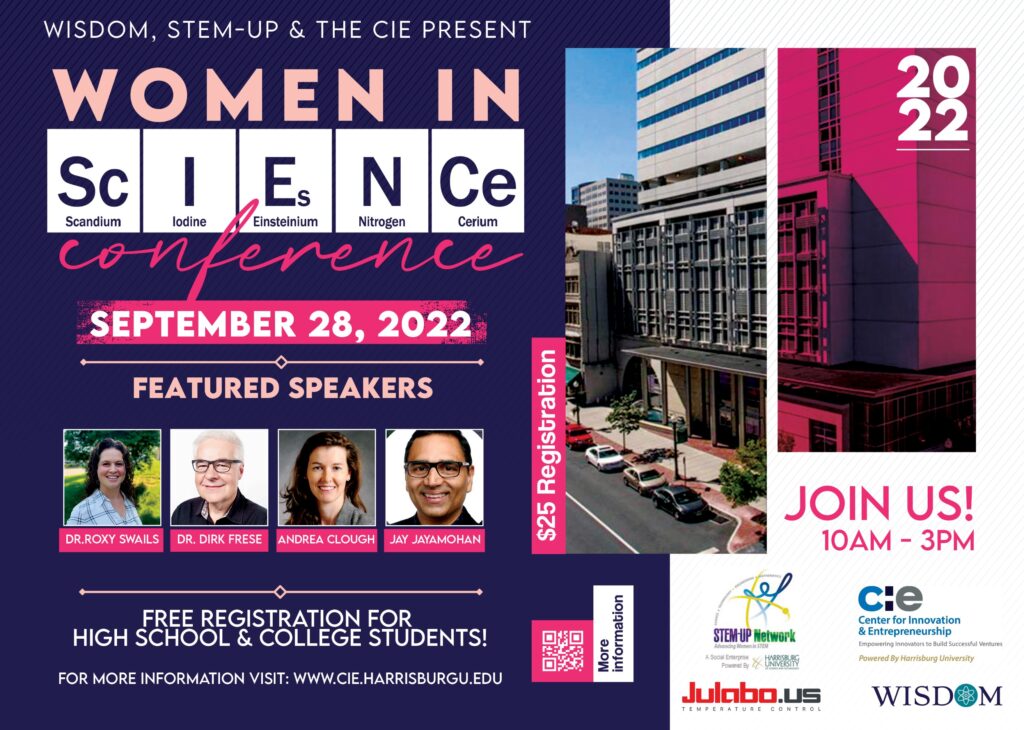 ABOUT CIE
Center for Innovation & Entrepreneurship's is to make the CIE the center of a thriving entrepreneurial ecosystem that brings these communities together with the professors, students, and alumni of Harrisburg University and a network of community and business leaders, and advisors to build innovations in the Commonwealth of Pennsylvania. Since its inception in 2019, The CIE has delivered 27 educational and partnership programs. The center has directly engaged 100 Students, 20 Faculty members, and 2000 participants in our programs.
ABOUT STEM-UP NETWORK
A leading network of women professionals in STEM, our community of professional women in science and technology prepares women with real-world strategies and relationships that support development and advancement personally and within our careers. Over the past year, almost 400 women from across the country and 6 different countries have participated in (and benefitted from) STEM-UP Network programs and connections.
ABOUT WISDOM
Women in Science Demonstrating Outstanding Merits (WISDOM) is a 501(c)(3) non-profit working to provide opportunities, resources, and support to female scientists looking to advance their careers outside academia. Our goal is to bring women and industry together to affect change, facilitate innovation, and develop women's leadership opportunities in commercial science. Your tax-deductible donation allows us to create the resources, programs, and support needed to advance this mission.